Add a touch of elegance and sophistication to your home with natural hickory hardwood flooring from Ua Floors. It is one of the most popular choices of hardwood flooring across the globe, and for good reason. Highly versatile and exceedingly durable, it can be installed in several spaces in your home, from the bedroom to the dining room, as well as office spaces.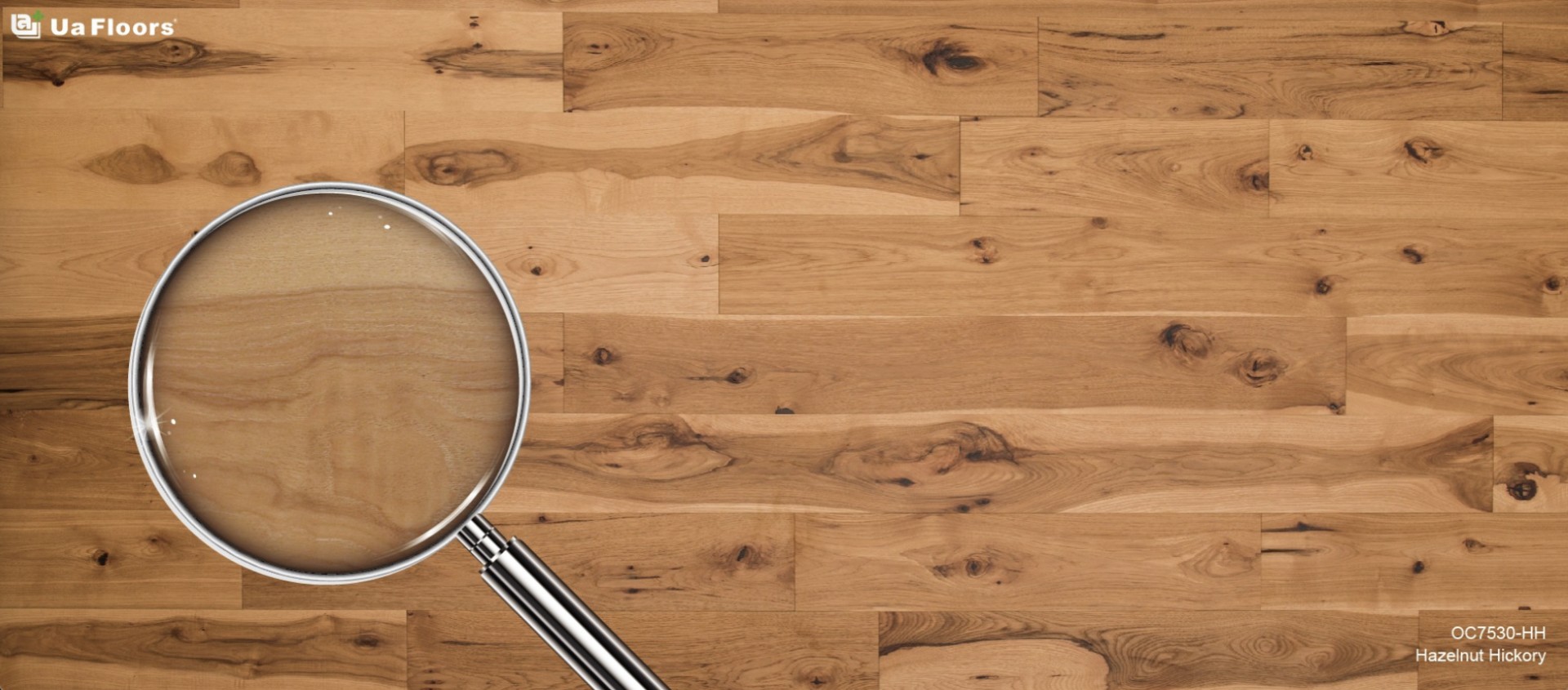 What is Hickory Wood?
Hickory is a native hardwood in the U.S., and it can sometimes look like Oakwood due to its grains and colors, but what makes it stand out is its strength, as it is harder than oak on the Janka scale. Because it offers a lot of color variation, unique knots, patterns, and dependable hardness, Hickory hardwood flooring is often seen in many homes, especially those that have pets in their household.
Here are the basic things that you need to know about Hickory:
| | |
| --- | --- |
| Wood Characteristic | Quality |
| Origin | There are four commercial species of hickory, and the wood is almost the same for all of them. They usually grow in the USA and Canada. |
| Janka Hardness | Hickory has a Janka Hardness rating of 1820. |
| Color | Hickory heartwood offers a color that ranges from light to medium brown with reddish hues, while its sapwood offers a pale yellowish-brown. |
| Grain | Hickory woods offer a coarse texture with either a wavy, straight, or irregular grain. |
| Dimensional Stability | Hickory is ranked among the least stable of domestic species in hardwood flooring, as it has a .00411 dimensional stability factor. |
| Specific Gravity | Beech Birch Hickory has a specific gravity of 0.82. |
| Nailing | As an extremely durable hardwood, Hickory can be hard to nail through, which means you might need to pre-drill it prior to nailing. |
| Sanding | Hickory sands well, but it is known to dull blades faster, so you won't want to skip grits when sanding it. |
Why is Hickory a Popular Choice for Wood Flooring?
Apart from its natural and rustic charm, Hickory hardwood flooring is a popular choice in many households because of its inherent hardness and dependable durability. It can effectively hold up to a high volume of foot traffic and it also hides dents and scratches well, especially when compared to other hardwood species.
Engineered hickory hardwood floors like heritage hickory engineered wood flooring have been growing in popularity for two good reasons. First, it offers a beautiful and warm mood through its stark tones. Second, it offers additional value to any property.
Ua Floors has long been trusted by designers, decorators, and architects for our wide range of products made of the highest quality materials. Because of this, our collection brings you many types of beautiful hickory engineered hardwood flooring in a wide range of colors and hues, from pale whitewash shades to deep browns that will match your interior motifs. Lighter shade variations can be used to brighten up any room, while darker hues go perfectly with more contemporary applications. Listed below are the reasons that make hickory flooring popular up to this day.
Appearance
Our hickory hardwood flooring for sale comes in a wide range of colors, grades, and textures. The sapwood and heartwood can have a variation in colors and hues, from very light and pale to dark, reddish tans and browns, alongside a combination of wood grains, offering you nearly infinite unique looks. The grains can vary from straight to wavy, which gives hickory that distinct character. Overall, hickory provides you with an authentic wood look that appeals to those who appreciate the antiquated appearance of wood flooring.
Mostly, the first thing that people notice is how visually appealing engineered hickory wood floors are. Its lighter shade can bring additional warmth to any room, and in darker shades, it lends some real character to any space. Waxing hickory floors will allow them to reflect natural light and bring a soft glow, which is perfect for the areas in a home where people spend a lot of time together. The wood grains, knots, and mineral streaks pop out and bring elegance to the room's overall style. You can also wax and stain hickory floors to add some sheen to their natural beauty.
Customize your order according to your preferred finish – from ultra-glossy to shiny, to a more subdued wire brush finish. No matter your style and taste, there's a hickory hardwood floor product that matches your preferences.
Durability
Hickory hardwoods have a Janka Hardness Scale rating of 1820, which makes it harder than oak, maple, pine, or any other domestic hardwood in the U.S. for hardwood flooring. The incredible strength of hickory woods, alongside its high density and high resistance to wear and tear, is seen in hardwood flooring because of its excellent durability. It does not get damaged, scratched, or dented as easily, making it perfect for spaces with high volumes of foot traffic.
Hickory is durable as they come. All types of flooring are subjected to years of foot traffic, and over time, the floors give in, and different forms of damage manifest. Moving furniture around, spillage of food and beverage, shoes coming in and out of a home or office, dirt, mud, prolonged exposure to sunlight — are just a few examples of how floors experience use and abuse. The hardness of hickory, however, provides the flooring with an inherent resistance to wear and tear. Its surface qualities allow it to hold stains better than other wood species and with constant waxing, its resistance to water damage improves as well.
Sturdiness
Apart from its aesthetic appeal, hickory flooring is chosen for its hardness rating, making it a good choice for high-traffic areas in your home. It withstands the wear and tear of everyday use, which makes it a popular flooring choice also for commercial spaces. It is easy to clean and maintain, requiring only sweeping and regular mopping, allowing it to keep its high-grade shine.
And while there are other harder hardwoods on the market, no other hardwood flooring combines an authentic wood appearance, hardness, strength, and high density like hickory.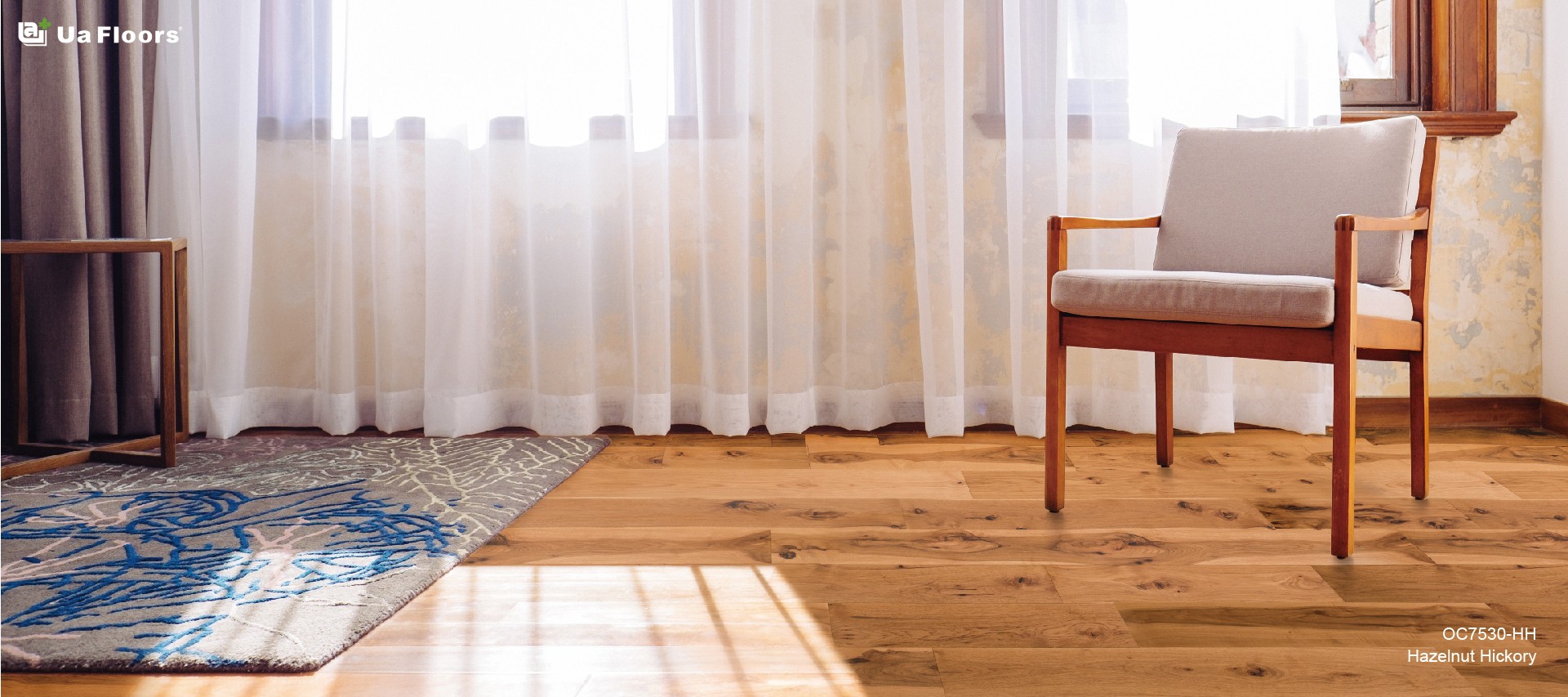 Ua Floors Offers an Extensive Range of Hickory Floors
Engineered hickory hardwood floors are popular for a reason: it either looks good or adds value to any given space. It offers two key benefits which address both substance and style, which is why Ua Floors offers a wide selection of hickory flooring options.
Choose from some of our Hickory flooring products:
With more than 10 different flooring products made of Hickory, you will definitely find the right style for your home. Browse our products today.