When contractors or homeowners look for quality flooring, it can be difficult for those who do not know what to look for in wholesale hardwood flooring suppliers to decide on which flooring to go for.
Our customers can trust Ua Floors to give them high-quality hardwood flooring products. We have the testing reports, certifications, and patents to prove that we provide nothing less than the best for our customers. Here is a list of all of them and what they mean when you purchase our flooring products.
United States Patent
Ua Floors received a United States Patent from The Director of the United States Patent and Trademark Office for its far-infrared hardwood flooring.
Far-infrared flooring takes the far-infrared rays (FIR), also known as biogenetic rays, that are commonly found within the sunlight spectrum. Studies have shown that FIRs can promote the growth and health of living cells.
The human body consists of 70 percent water. When your body comes into contact with our FIR flooring, the FIRs cause the water molecules in your body to ionize and activate. As a result, these molecules promote healthier blood circulation in your body.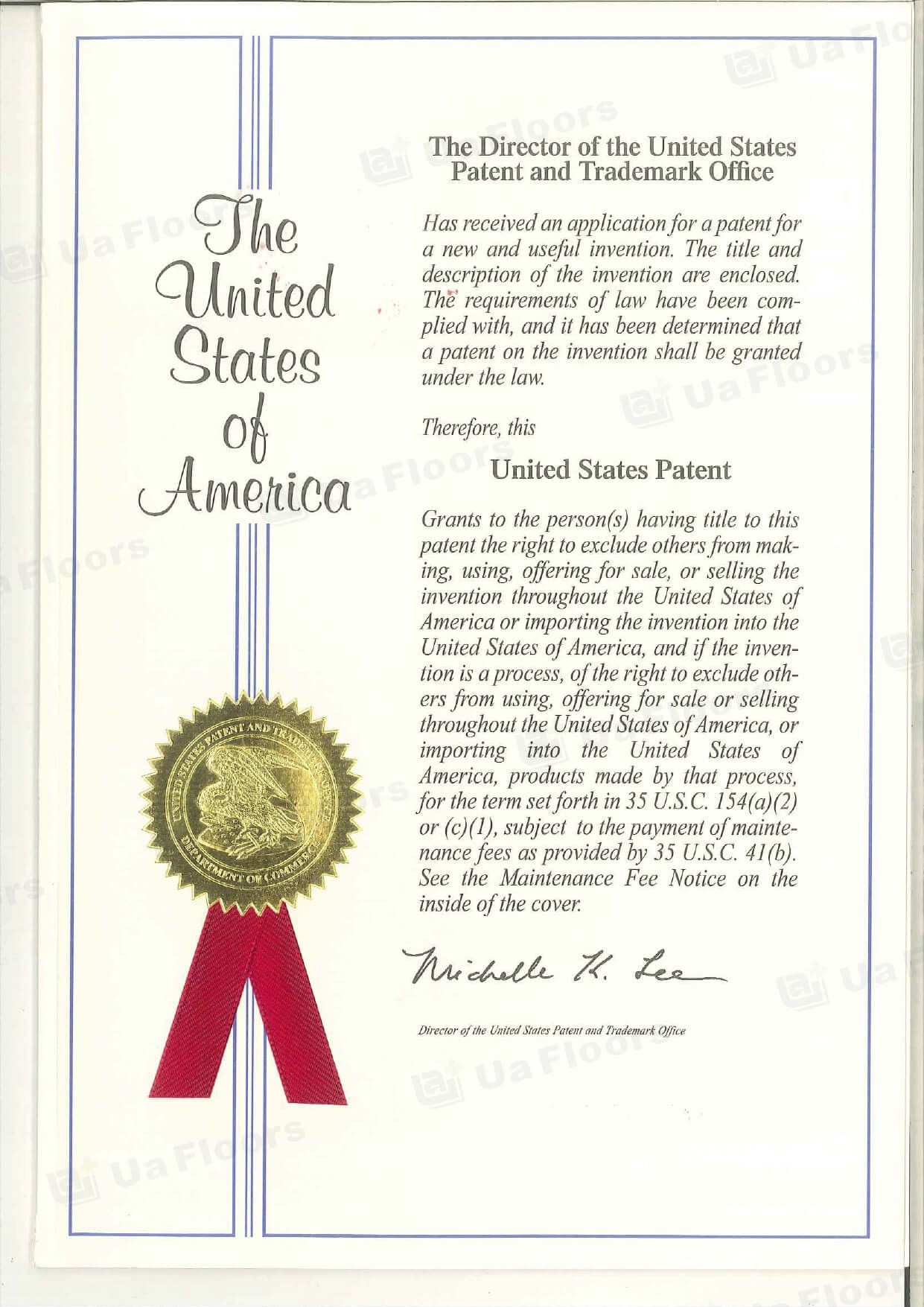 Anti-Microbial Activity for Aspergillus Niger
Aspergillus niger is one of the most common species of fungi under the Aspergillus genus. This fungus is responsible for creating black mold common in fruits, vegetables, and other types of food. Although it's not harmful to humans and animals, it can cause food spoilage when it comes into contact with certain types of food.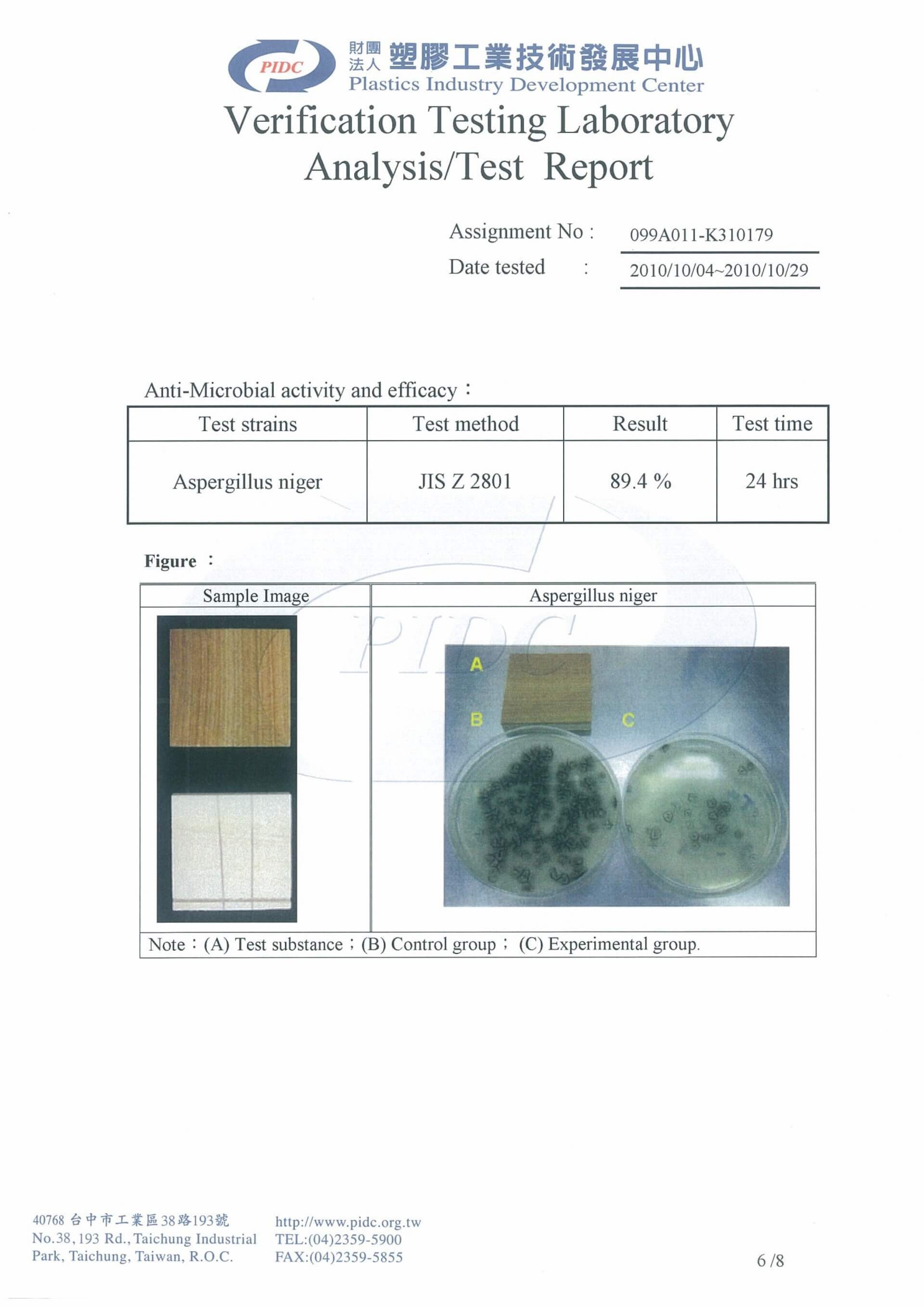 Our verification testing from the Plastic Industry Development Center in Taiwan shows that our hardwood floors have an anti-microbial efficacy of up to 89.4 percent within 24 hours. This means our hardwood floors are a safe choice for kitchens for homeowners that want to reduce the risk of food spoilage from fungi.
Anti-Microbial Activity for Epidermophyton Floccosum
Epidermophyton floccosum is a type of fungi that can cause skin and nail infections in humans. A few of these conditions include Athlete's Foot, Jock Itch, Ringworm, and Nail Fungal Infection. While these are curable conditions, it can be uncomfortable for humans to experience this.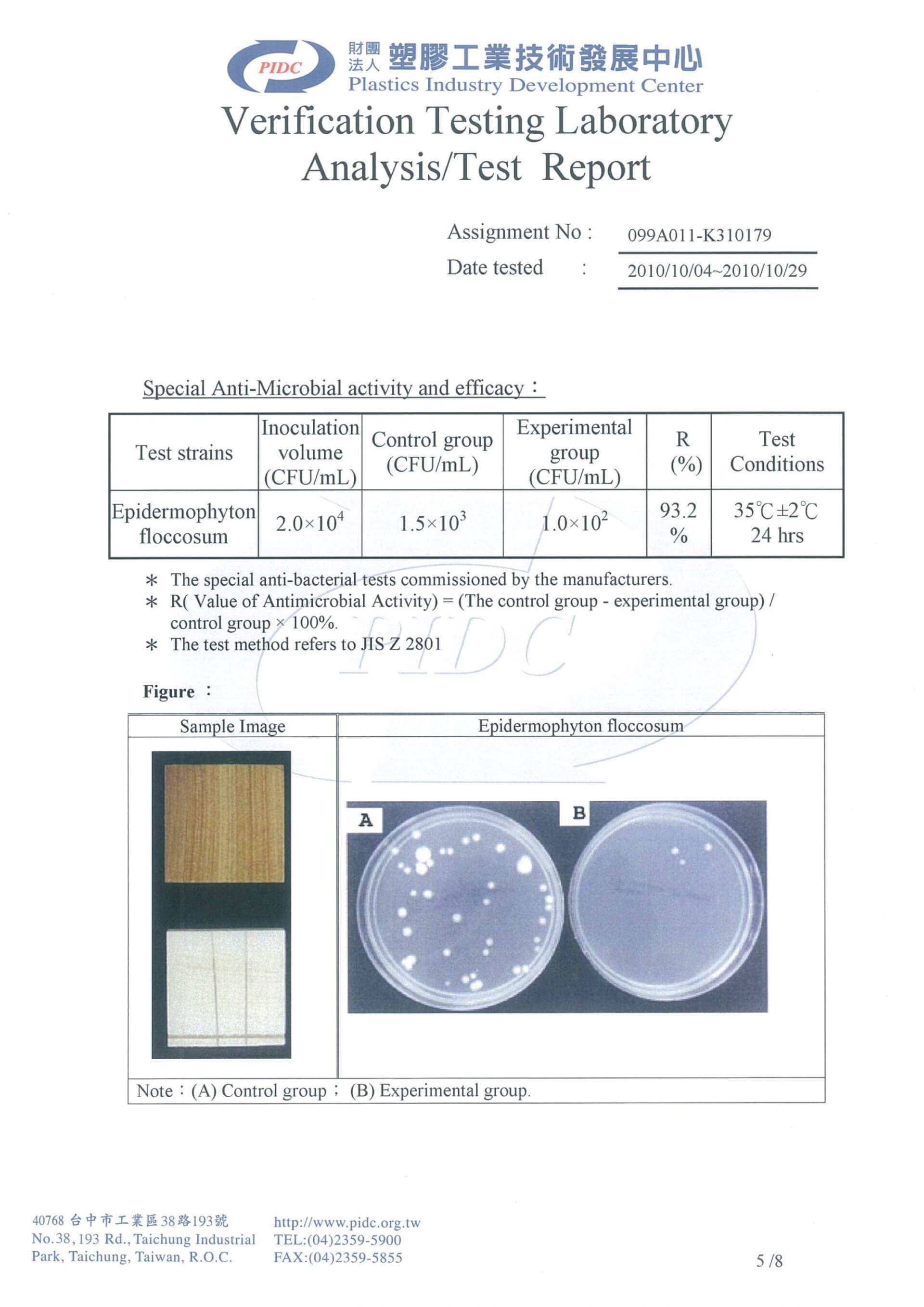 Our testing has shown that our hardwood flooring can stop fungal growth for up to 93.2%. Given that this fungus can infect skin, this is a useful feature to have especially for households with children.
Anti-Microbial Activity for E. Coli
Escherichia coli (also known as E. coli) is a type of bacteria often found in the lower intestines of warm-blooded animals. While most strains are harmless to humans, some types can cause food poisoning, food contamination, and other digestion issues like diarrhea.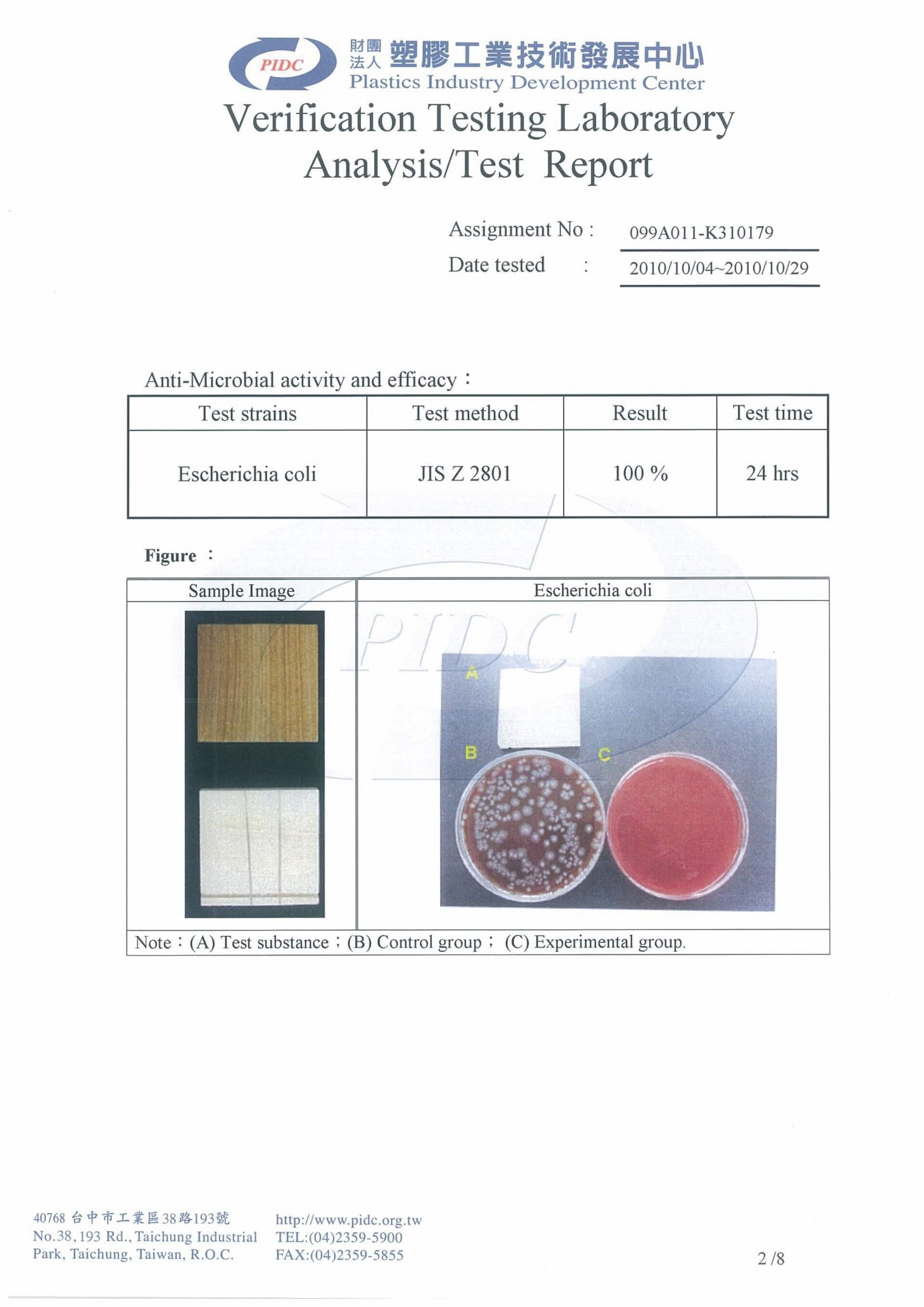 Tests show that our hardwood floors had a 100% anti-microbial efficacy against E. coli. This bacteria can be passed through fecal-oral means or through raw or contaminated food, so this is an important feature for kitchens or those with pets and young children.
Anti-Microbial Activity for Staphylococcus Aureus and Multi-Resistant Staphylococcus Aureus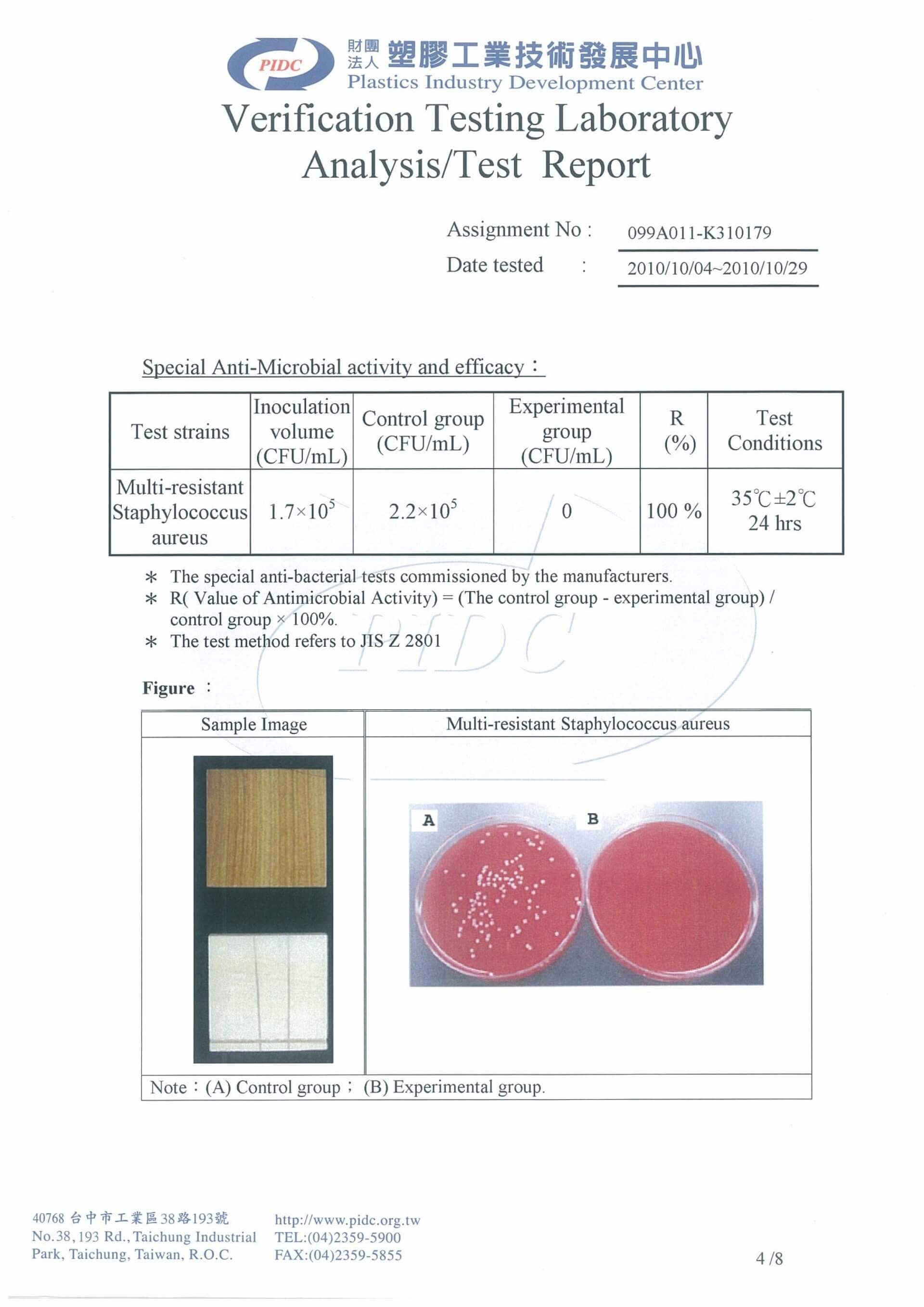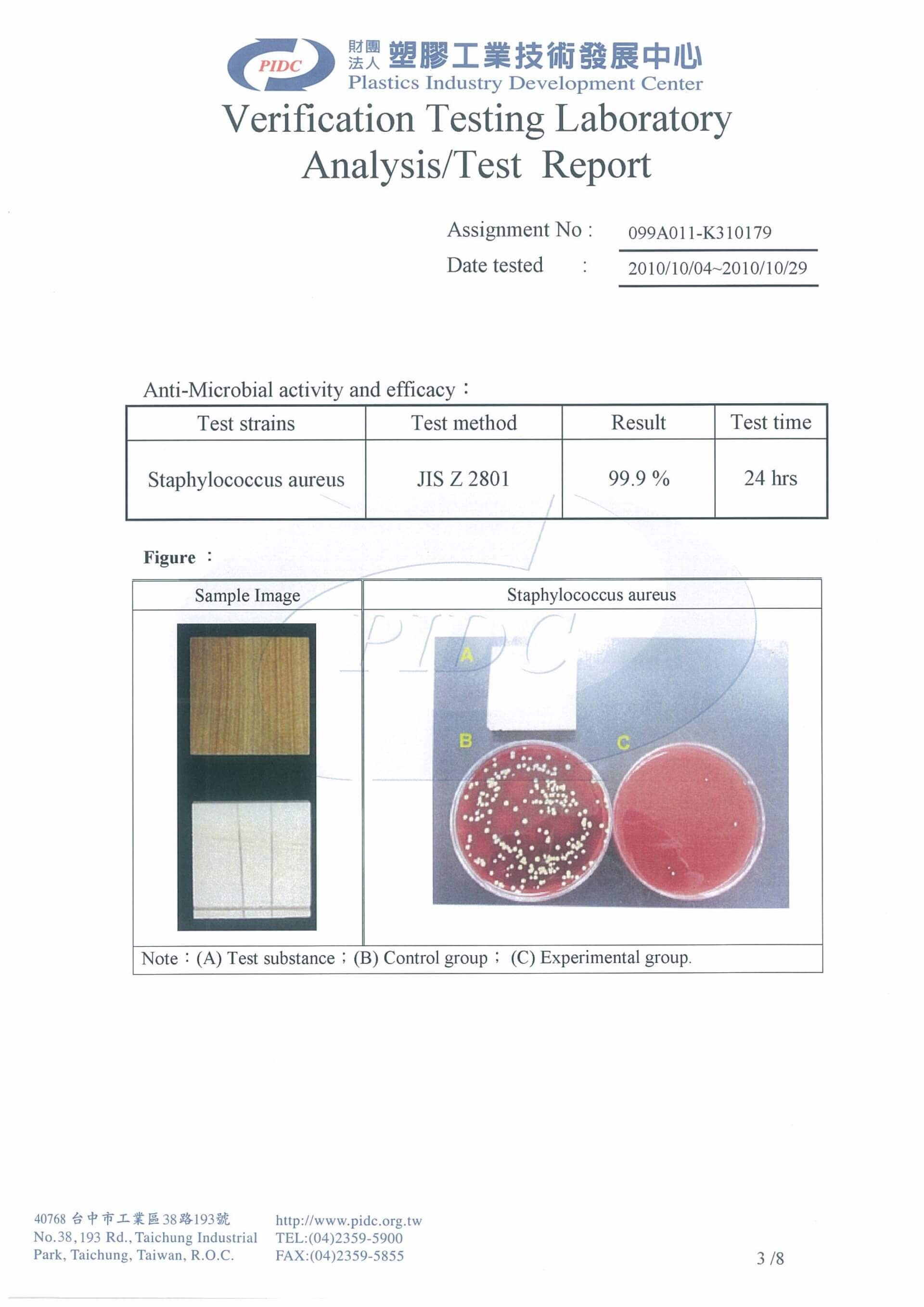 Staphylococcus Aureus is a type of bacteria found commonly in people's noses. While it is mostly harmless, it can have serious effects on the human body and develop conditions such as sepsis, pneumonia, or infection of the heart valves or bones.
Two separate tests were done for Staphylococcus Aureus and Multi-Resistant Staphylococcus Aureus. Both showed an anti-microbial resistance of 99.9% and 100%, respectively. This can be a useful feature for those with respiratory conditions as it can prevent bacterial growth indoors.
Formaldehyde Testing
Formaldehyde is a chemical compound present in all types of life forms. However, large amounts of this compound is considered a first-class carcinogen that can be a flammable and strong-smelling chemical present in many industrial and household products. It is also used as a fungicide, germicide, disinfectant, and a preservative in mortuaries.
It is used in wood manufacturing production, so many wooden products in the market have traces of formaldehyde. When some people are exposed to more than 0.1 ppm of formaldehyde, they may experience symptoms like watery eyes with a burning sensation in the eyes, nose, and throat; coughing and wheezing; and skin irritation.
This is particularly concerning especially for households with small children. Given that 90 percent of your time is spend indoors, high concentrations of hazardous materials can be dangerous to those living in your household.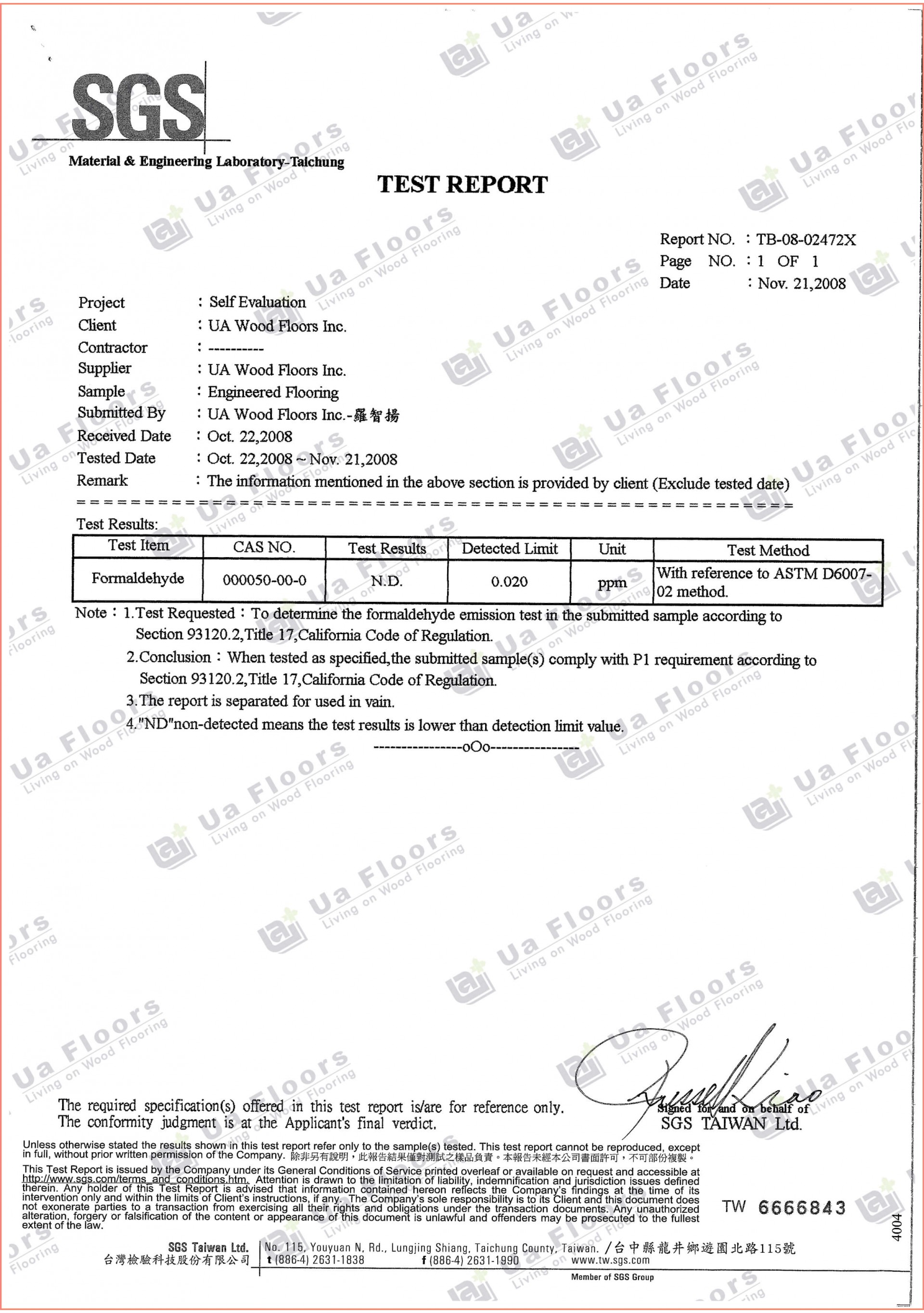 Testing conducted by SGS Taiwan Ltd. took a sample of our engineered flooring and that the sample had even less than the 0.020 ppm sample – a fifth of the ppm needed to cause a negative reaction. This means there is very little formaldehyde in our hardwood flooring. This complies with the P1 requirement of the California Code of Regulation.
FloorScore Indoor Air Quality Certified
In 2020, Ua Floors was certified by SCS Global Services for the FloorScore Indoor Air Quality.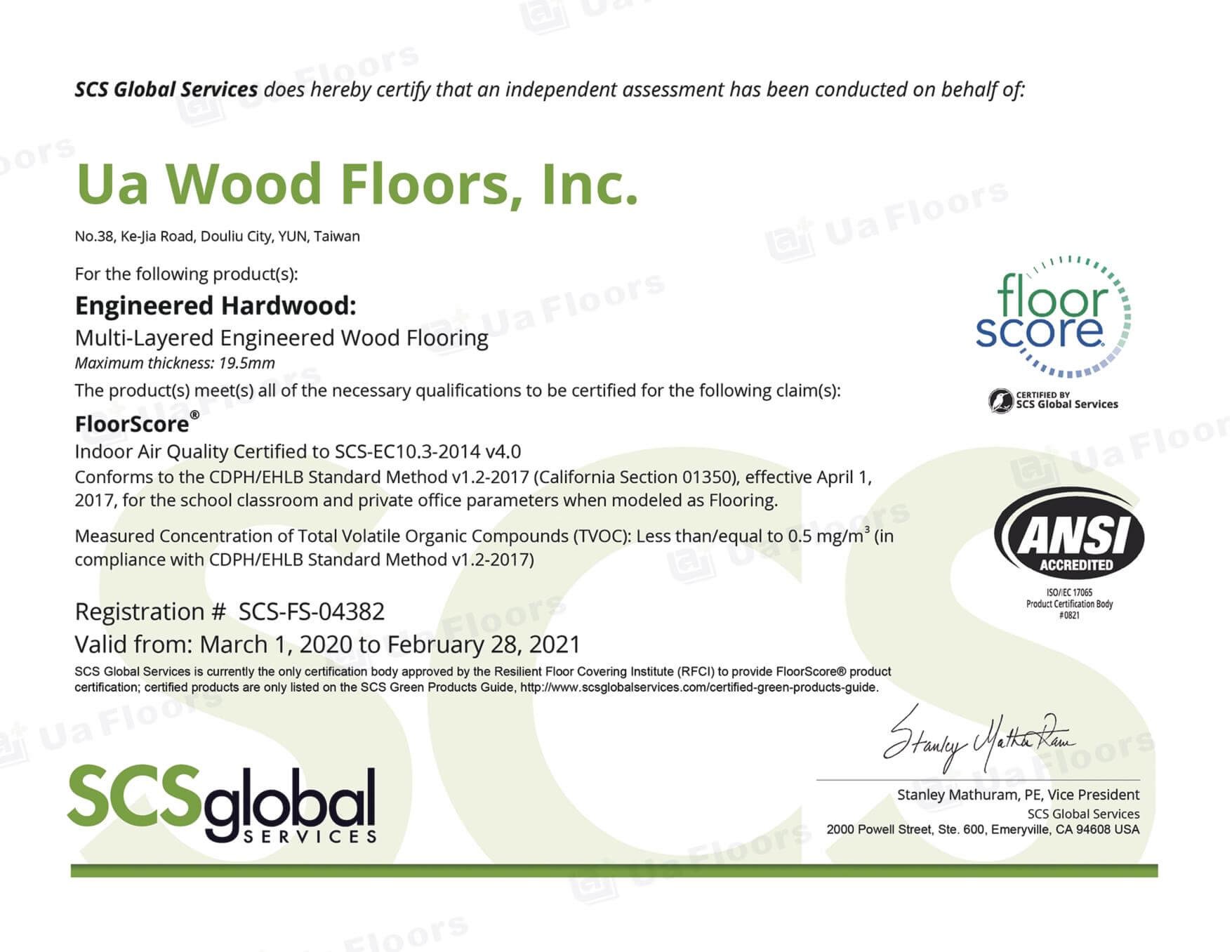 This means that our Multi-Layered Engineered Wood Flooring conforms with the CDPH/EHLB Standard Method v1.2-2017 for school classrooms and private offices when used as flooring.
This means it has less than the limit of Total Volatile Organic Compounds allowed in indoor rooms for schools and private offices.
ISO 9001:2015
Ua Floors met the requirements to obtain a ISO 9001:2015 certificate. This is to show that their design, development, manufacturing, and sale of wood flooring products meet with the standards aforementioned.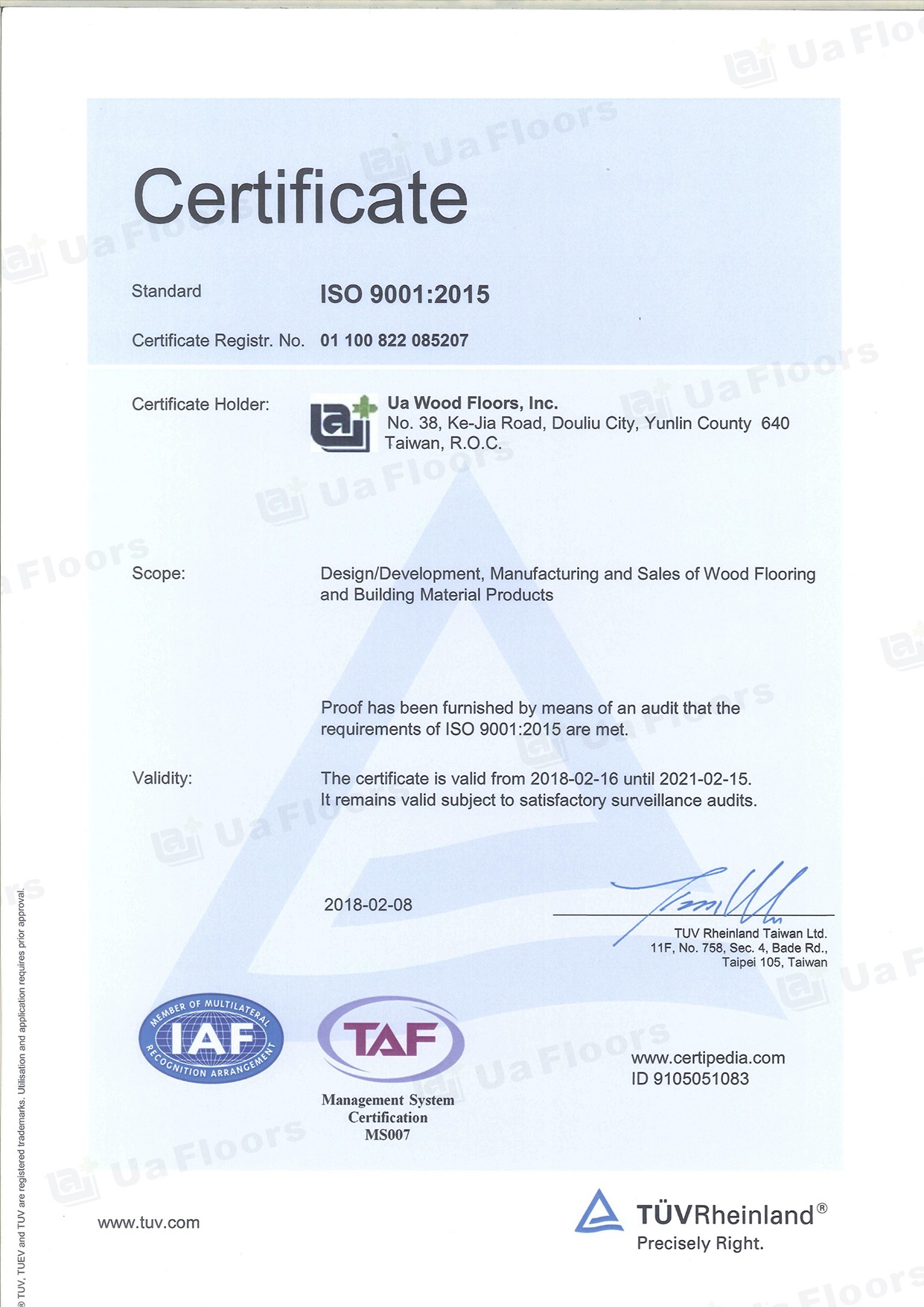 JAS Certificate
The JAS certificate was given by the Canadian Mill Services Association in recognition of having met the provisions of Clause 1 of Article 30 of the Law concerning the Japanese Agricultural Standards.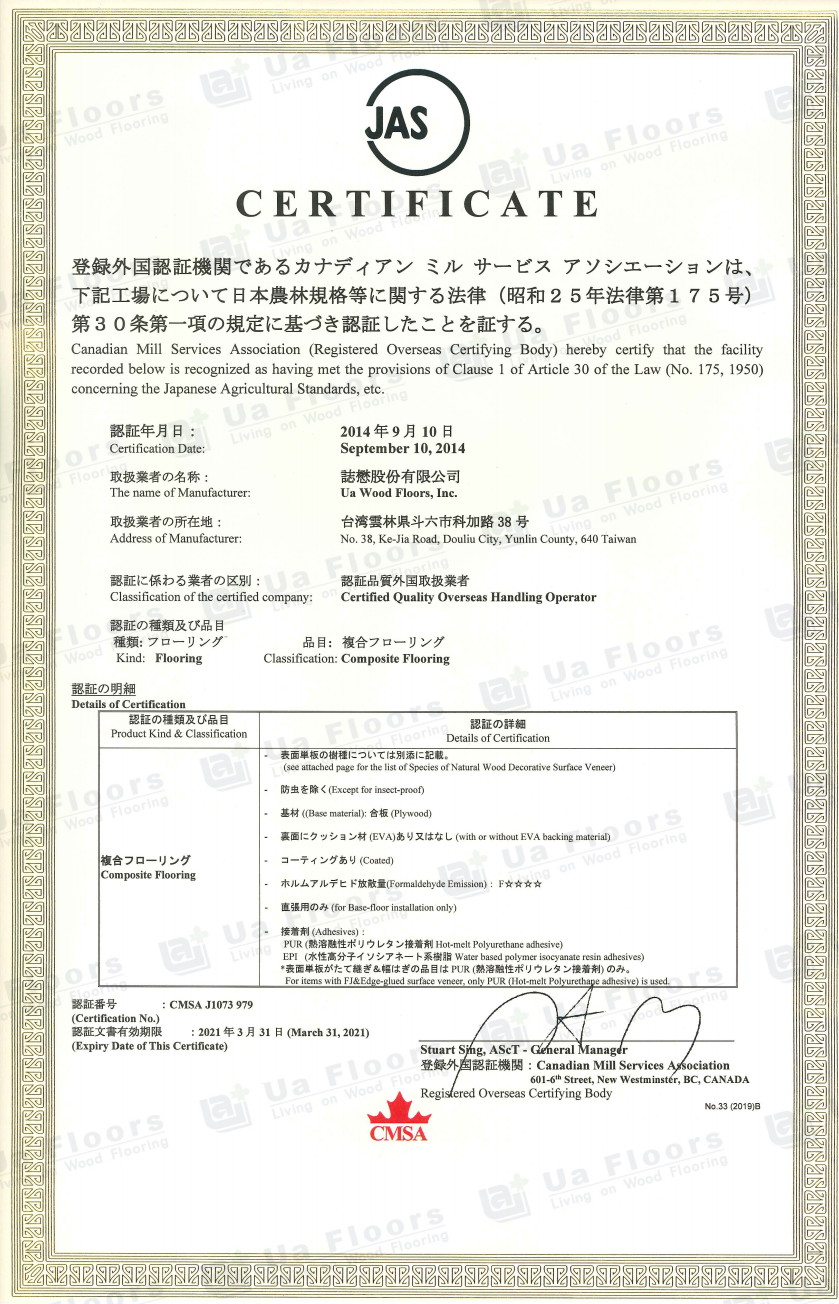 CE Certificate
The CE Certificate is to assess the burning behavior of our wood flooring, the amount of formaldehyde, and the amount of pentachlorophenol in our wood. The results show a positive result for all three, showing how safe and non-toxic our hardwood floors are for your home.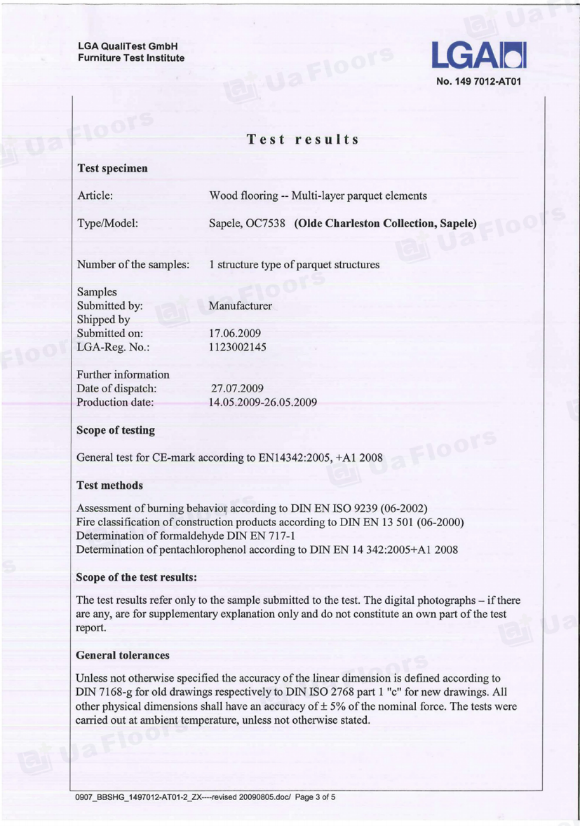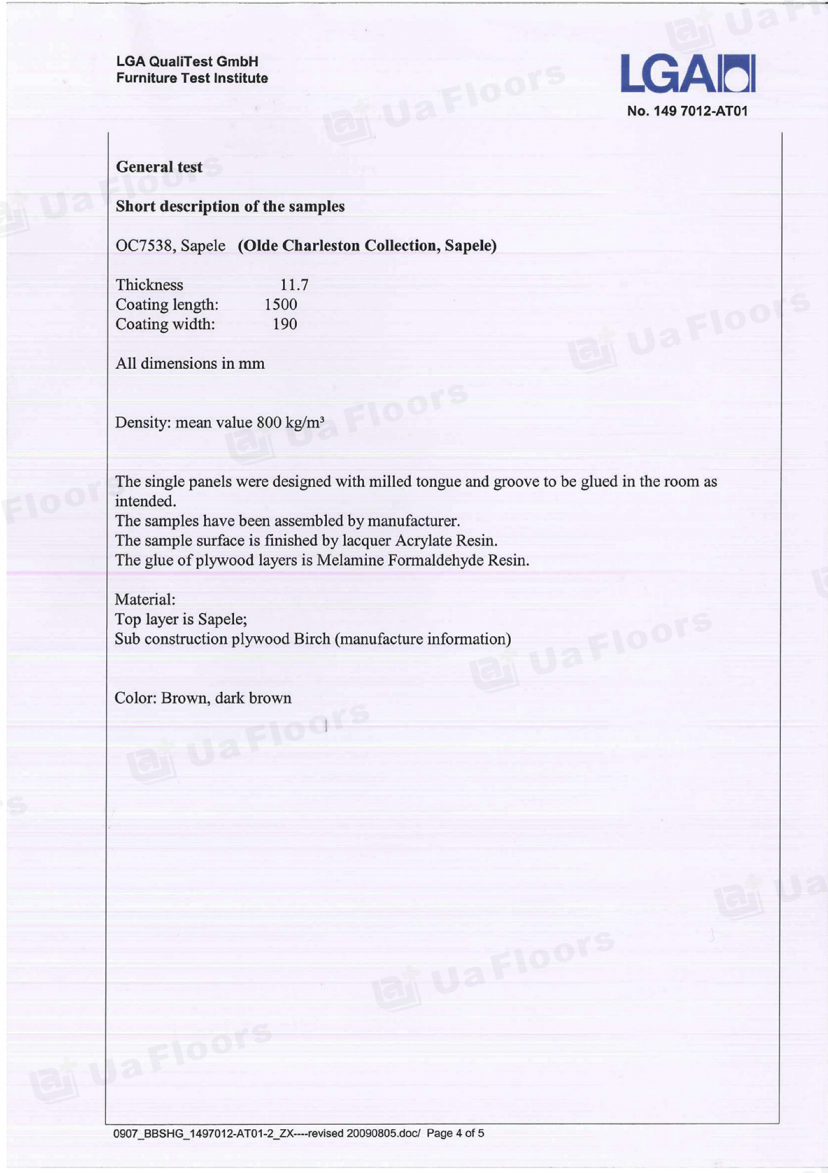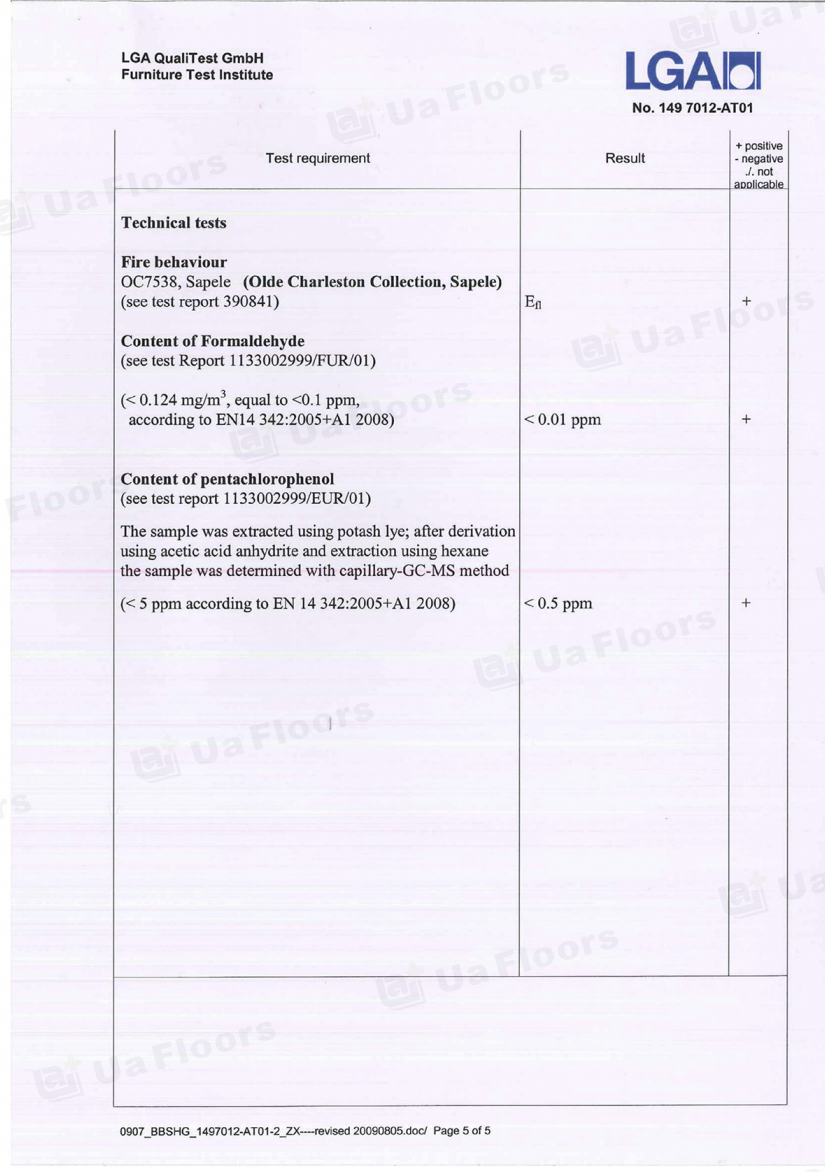 Ua Floors uses every certification and test report available to prove the reliability, durability, and quality our customers receive. You can be assured that our hardwood floorings are tried, tested, and safe for residential and commercial use.
Contact us today to learn more about our products.