Reclaimed heart pine flooring is among the recent flooring trends because of many reasons. It's a popular choice for many because of its sustainability, rawness of natural beauty, and rich history. Authentic and antique reclaimed woods from old and abandoned barns, mills, stables, and other structures can be as old as a hundred years!
Read more about reclaimed heart pine flooring and discover what makes it irresistibly beautiful!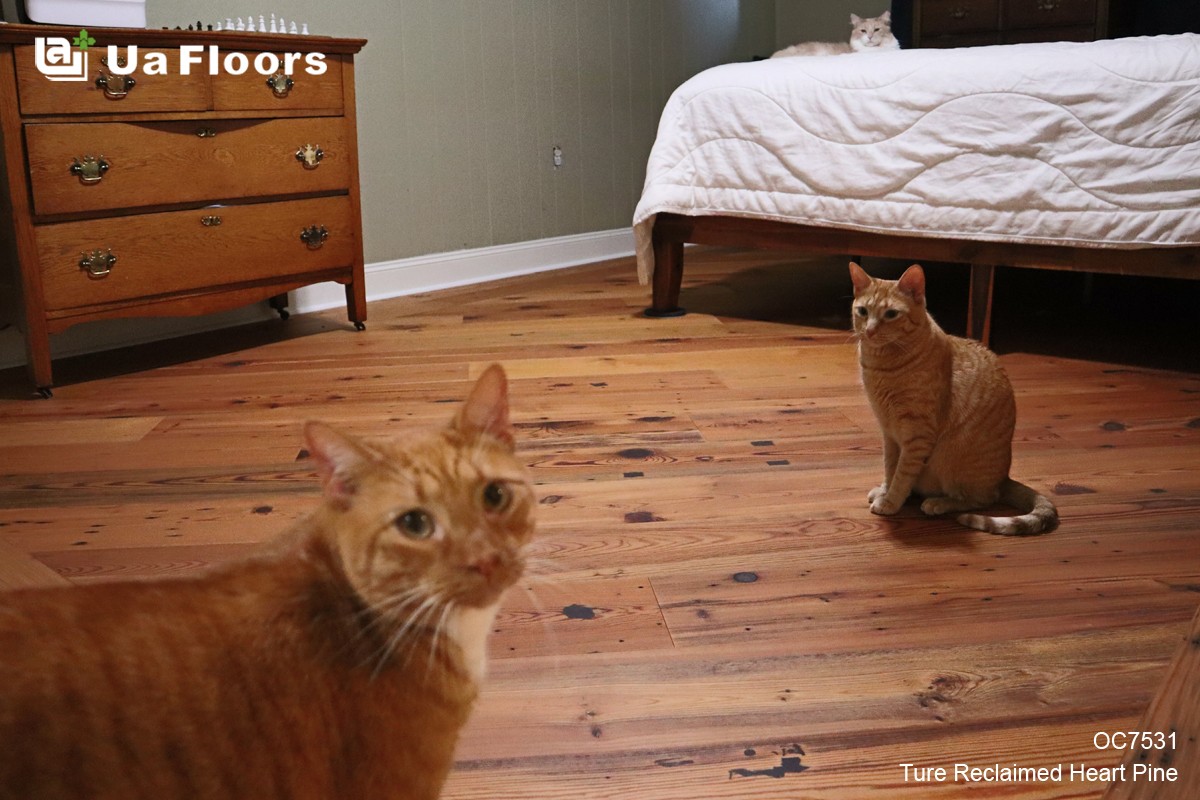 What is Reclaimed Heart Pine Wood Flooring?
Reclaimed heart pine wood flooring is characterized by its source. Aged barns, wood mills, buildings are dismantled and the pieces and planks of wood are then repurposed into wood flooring. Every board of reclaimed heart pine wood offers memories of its former life in various ways, such as:
Nail holes
Wormholes
Mortise and tenon joints
Natural wear in its patina
Reclaimed wood floors like heart pine are available in natural face, which is rougher and rarer, and milled face, which is smooth and planed.
What are the Benefits of Reclaimed Heart Pine Wood Flooring?
1. Sustainable
2. Unique Appearance with Sense of History
3. The Timeless Appeal
Sustainable
With reclaimed heart pine wood flooring, no trees are cut down and less energy is consumed in its manufacture. Because the materials are repurposed, the wood parts of old buildings are not wasted, and are instead preserved. This makes reclaimed woods a more sustainable flooring product.
Unique Appearance with Sense of History
Reclaimed wood flooring like reclaimed heart pine wood floors tell a unique story that comes with its long age. After years of serving some other purposes in its past life, the markings and colors of reclaimed heart pine wood floors from many years of heavy use from another life are a reflection of its rich history. There are no two planks or floors that will ever look alike, which makes it a truly popular choice for many, especially those who are fond of and have a deep affection for history.
The Timeless Appeal
Similar to its storage life, reclaimed heart pine wood floors offer a timeless appeal. It's more than just a trend, as its sustainability and history give it a timeless appeal. By being environmentally friendly, reclaimed woods are sure to last for decades and centuries to come. It offers a familiar warmth while also staying connected to history.
How is Reclaimed Heart Pine Wood Flooring Made?
Ua Floors' reclaimed heart pine floors are made in six steps:
Finding a hundred-year-old textile mill
Participating in the teardown of the mill
Reclaiming the pine for repurposing
Inspecting the pine for nails and other foreign materials with a metal detector
Removing the nails and other metals with care
Manufacturing the reclaimed pine with purpose
It is through the conservation of old churches and abandoned textile mills' used wood that we get to preserve history and deliver sustainable flooring solutions—through reclaimed heart pine flooring.
Here's a list of our reclaimed heart pine wood flooring products:
Ua Floors is Here to Help You with All Your Flooring Supply Needs
So, are you convinced that reclaimed heart pine flooring is for you? Does it satisfy your criteria and fit your design? Are the costs acceptable?
These are some of the questions that you will have to answer if reclaimed heart pine is your wood species of choice as a flooring solution. Ua Floors, the global leader in engineered hardwood flooring supplies, is here to help you find all the answers and make decision-making an easier process.
Don't hesitate to consult our expert team today and discover the best wood flooring option for you.