An office serves to handle high volumes of foot traffic all day, which is why flooring is an important consideration. With beautiful wood floors in a commercial space, employees and staff feel that they are more productive, which helps improve overall work efficiency. A recent study shows that staff productivity can increase up to 15 percent by simply having wood designs in an office space.
That said, it can be challenging to choose the right flooring option, especially when there is an abundance of options in the market. Fret not, as Ua Floors can help you choose the most suitable flooring for your commercial and office space.
From carpeted, to ceramic, rubber, vinyl, stone, and hardwoods, we understand how confusing it can be to decide. So, in this blog, we'll go over the factors that emphasize how engineered hardwood flooring can provide the most benefits for commercial use.
These factors can include the following:
Durability
Noise
Cleaning and maintenance
Style
Cost
Security and safety
Comfort
Climate
Many people choose hardwood floors because not only are they visually appealing, but they are highly durable and easy to clean and maintain. With a wide range of variety, hardwood flooring is available in species like red oak, maple, hickory, and reclaimed heart pine, just to cite a few examples.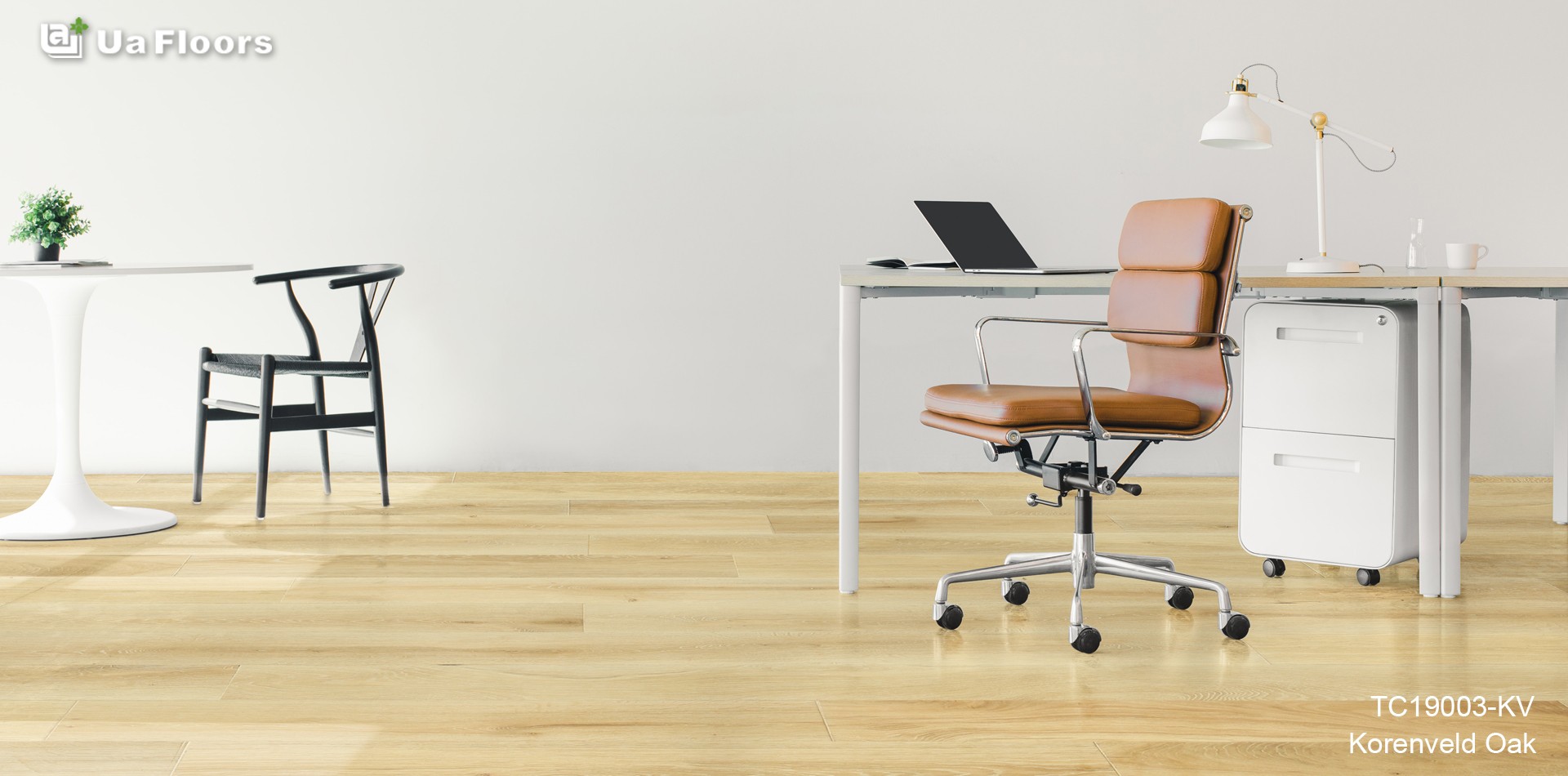 What to Look for in Commercial Wood Flooring
Here are the characteristics that you'll want to look for when choosing commercial hardwood floors.
Scratch-resistant
To ensure that commercial floors last, it has to have the capacity to deal with high volumes of foot traffic and resist damage. Scratch-resistant floors will rely on a tough and thick wear layer and special coating.
Easy to Maintain
The best commercial flooring requires less frequent and less intensive maintenance. This means that sweeping, mapping, and vacuuming should be enough. There should be no need to use special or expensive cleaning agents to desperately keep commercial wood floors in tiptop shape.
Timelessness in Style
Since commercial wood flooring serves to be in use for a long while, its style should last with the years as well. That being said, the timeless aesthetic of wood floors is befitting of office, shop, retail, or hospitality spaces. It introduces elegance, warmth, and a sense of class in every space – intangible value-adding characteristics of wood flooring that lasts generations.
Hardwood floors are a popular choice as they provide office and commercial spaces with an enduring classic look that is elegant, warm, and timelessly fashionable.
They are also generally categorized into two product types: traditional (or solid) and engineered hardwood floors; both can be stained and damaged due to moisture, scratches, and dents, but they can also be sanded and refinished to prolong their lifespan.
We'll go deeper into the benefits and differences of the two, so keep reading on to find out more!
Your Options for Public Spaces: Traditional Wood vs Engineered Hardwood Flooring
Traditional wood flooring generally refers to solid hardwood flooring. As a flooring option, traditional wood flooring offers warmth, value, and irresistible charm to any space. It is available in various wood species, finishes, and colors. Durable as they come, solid hardwood flooring can last for generations in select spaces.
Traditional wood flooring's key feature is its durability, especially in older homes. Solid hardwood floors that retain their charm are of value. Its toughness and thickness allow it to be refinished, providing two benefits:
Keeps your wood floors performing at excellent working conditions
Enables you to customize your floor, such as increasing or decreasing its brightness to give the space a new feel and design
However, should you decide to go with traditional wood flooring like solid hardwoods, you have to expect that it comes at a premium. Wood plank prices can normally range anywhere between $3 and $15 per square foot—often relative to the quality of the product. Installation and professional labor costs are another discussion. So, cost is another thing that you'll have to consider in choosing traditional wood flooring solutions.
Traditional solid hardwoods are also prone to radical changes in temperature and moisture. Prolonged exposure to heat, cold, or water will often lead to damage through deformation, like warping, swelling, or shrinking. This means that location and environment play an important part in choosing commercial solid hardwoods or traditional wood flooring.
In commercial spaces, however, engineered hardwood flooring might likely fare better against high volume of foot traffic. This is primarily because of the way engineered hardwood flooring is constructed.
Engineered wood floors, through the natural wood lamella, can offer the same look as traditional wood flooring. Its layered structure allows for better dimensional stability when compared to solid hardwoods through the reinforced construction of the composite woods underneath the real hardwood layer. This provides better resistance to shrinking, swelling, and warping.
Engineered hardwood flooring offers versatility in installation, as it can either be glued, nailed down, or floated. This offers faster, easier, and more affordable installation when compared to traditional flooring solutions, especially when you're replacing old floors or preparing the subfloor. This also means that it is less likely to get damaged by environmental changes, enabling its use in basements and spaces for heating systems.
Commercial engineered hardwood floors can go toe to toe with traditional wood when it comes to appearance, since the wear layer of an engineered wood floor is the same natural wood found in solid or traditional wood floors. That being said, the impactful difference is in the price tag, which makes engineered hardwood flooring the better option for many commercial spaces.
Both traditional wood flooring and engineered wood flooring offer a variety of styles—from rustic, to sleek, and colored, grainy, or textured options. The choices will also depend on stability, installation, use, and costs. For commercial spaces meant for public use, style points can go to either hardwood flooring option, as engineered hardwoods have real and natural wood as its lamella or wear layer.
The Verdict: Are Engineered Hardwood Floors Better Than Solid Hardwood Floors?
Comparatively, when deciding whether to go with solid hardwood flooring or engineered hardwood flooring, you can review the factors listed above and evaluate which qualities matter the most. Consider the values that resonate, such as aesthetics, maintenance, or costs. And then decide which areas in your choice of hardwood flooring offer the most value.
If you're looking to install new floors that will last long, deliver high-quality performance, bring warmth, and add timeless beauty to any space, then engineered hardwood floors are the way to go, especially when you consider price and durability.
Solid hardwood flooring is ok to use in a place with low moisture, such as a second-floor bedroom, and if the only quality that matters to you is longevity. However, if you're leaning towards a more cost-effective option, engineered hardwood flooring is really a better choice.
Engineered Hardwood Flooring from Ua Floors
If you're in the search for a beautiful and cost-effective flooring product for a commercial-use office, or are considering to remodel a room at home to use as your office space, Ua Floors' engineered hardwood flooring products exist for a reason—to deliver a sustainable and high-quality wood flooring solution for all your office space needs.
Keep your staff performing at a high level and make a good impression on your guests and clients with Ua Floors' exquisite collection of engineered hardwood floors.
Don't hesitate to contact us today for any inquiries.