Is It Okay to Have Engineered Hardwood Flooring in the Kitchen?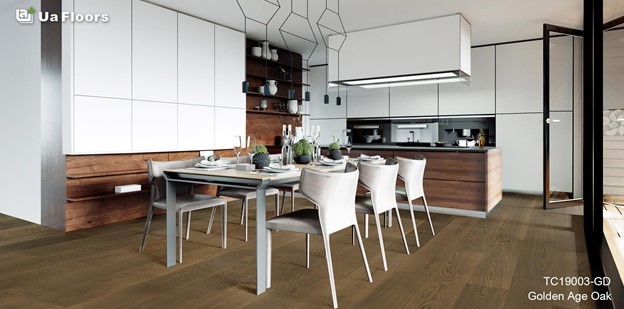 Kitchens are one of the most used areas in a home, and while it doesn't receive as much foot traffic when compared to living or dining spaces, having a beautifully designed kitchen can greatly improve the quality of your life. That said, having engineered hardwood floors in your home can bring a handful of benefits, but is it suitable for your kitchen?
Given the many uses of engineered hardwood flooring – from residential, to commercial, and industrial spaces – what's wrong with installing it in your kitchen?
Naturally, bedrooms and living spaces can either brighten up, exude a moodier ambience, or look more attractive with the installation of engineered hardwood floors. Kitchen floors, on the other hand, can also look more pleasing and welcome with engineered hardwood floors. However, they are prone to experience spillage and messes due to eating, cooking, and food preparation. For that reason, the flooring in your kitchen spaces should be carefully treated.
So, if you're looking to upgrade the flooring of the kitchen area in your home or commercial establishment, do bear in mind that durability is integral to keeping it clean and usable. This is what engineered hardwood flooring offers—and more!
Why Engineered Hardwood Flooring?
Engineered hardwood flooring can be a better option for your kitchen space. Compared to solid hardwood floors that run the risk of deformation with water damage, engineered hardwood floors perform better, especially against food or beverage spillage. Considering the costs of solid hardwoods, engineered hardwood floors are truly the better choice for areas that need constant cleaning and maintenance, such as the kitchen.
Even though our engineered hardwood flooring products are not water-proof, its plywood core provides better stability and overall performance than solid wood flooring when used in the kitchen.
The structure of engineered hardwood floors offer unique qualities that make it a beautiful addition to any kitchen space. Its groove fittings can withstand moisture to a significant extent without swelling, which makes it a cost-effective option that doesn't compromise on appearance, durability, or longevity.
Choose from Ua Floors' extensive and diverse collection of engineered hardwood flooring supplies:
Olde Charleston Standard
Olde Charleston Designer
Parisian Collection
The Classics+
Grecian
Grecian Herringbone
Manhattan
Patrician Collection
Diamond Forever
WoodCube
The Advantages of Engineered Hardwood Flooring in the Kitchen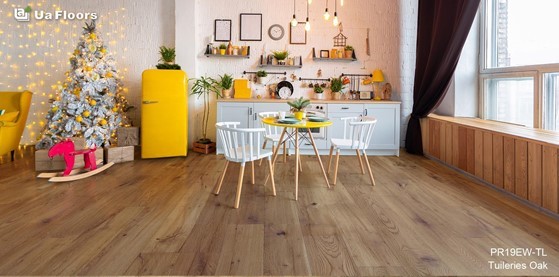 Installing engineered hardwood flooring in the kitchen comes with a handful of benefits. As mentioned earlier, engineered hardwood floors offer more water-resistance when compared to solid hardwoods. Apart from its structural durability, you can also expect a touch of elegance in your kitchen space with the beautiful and natural wooden appeal of engineered hardwoods' surface layer.
Here are more advantages of having engineered hardwood floors in your kitchen space:
It brings a specific design approach, such as warmth, a raw or natural vibe, and a timeless appeal, to any kitchen space
It can transform a kitchen's look to reflect contemporary and traditional designs
It is renewable, as the surface layer of engineered hardwoods offers restoration opportunities, albeit limited to a couple of times over a span of years depending on the product's thickness
It offers a sturdy and stable structure that can endure high volumes of foot traffic for many years
It is recyclable and made with sustainable practices
It actively adds value to any property, especially when compared to vinyl or laminate flooring products
It is easy to clean and maintain, and for kitchen spaces, this can be a big deal because it will save you more time
It is also more suitable for underfloor heating
Our engineered hardwood flooring products provide your home kitchen or food preparation business with a space that evokes the timeless beauty and lasting appeal of wooden floors.
Ua Floors is Your Trusted and Reliable Supplier of Engineered Hardwood Flooring
For all your hardwood flooring needs, Ua Floors is here to deliver. As the global supplier of sustainable and high-quality wood flooring products, rest assured that we have the best available solution for your kitchen space, whether for residential or commercial use.
Contact us today for any questions or inquiries.