In recent years, as dramatic climate change & net zero emission gained worldwide attention. Ua Floors has been keeping pace with times and actively promote "net zero emission," strengthen practical ESG acts, and make sustainability as our mission.
Since established in 1992, Ua Floors has strived to create hardwood flooring to be nontoxic, healthy, and eco-friendly without compromising the earth's health. We do lots of actions to be sustainable and protect this beautiful Mother Earth. Those actions can be divided into three parts, which are before product, products and after product. And you may learn more from below: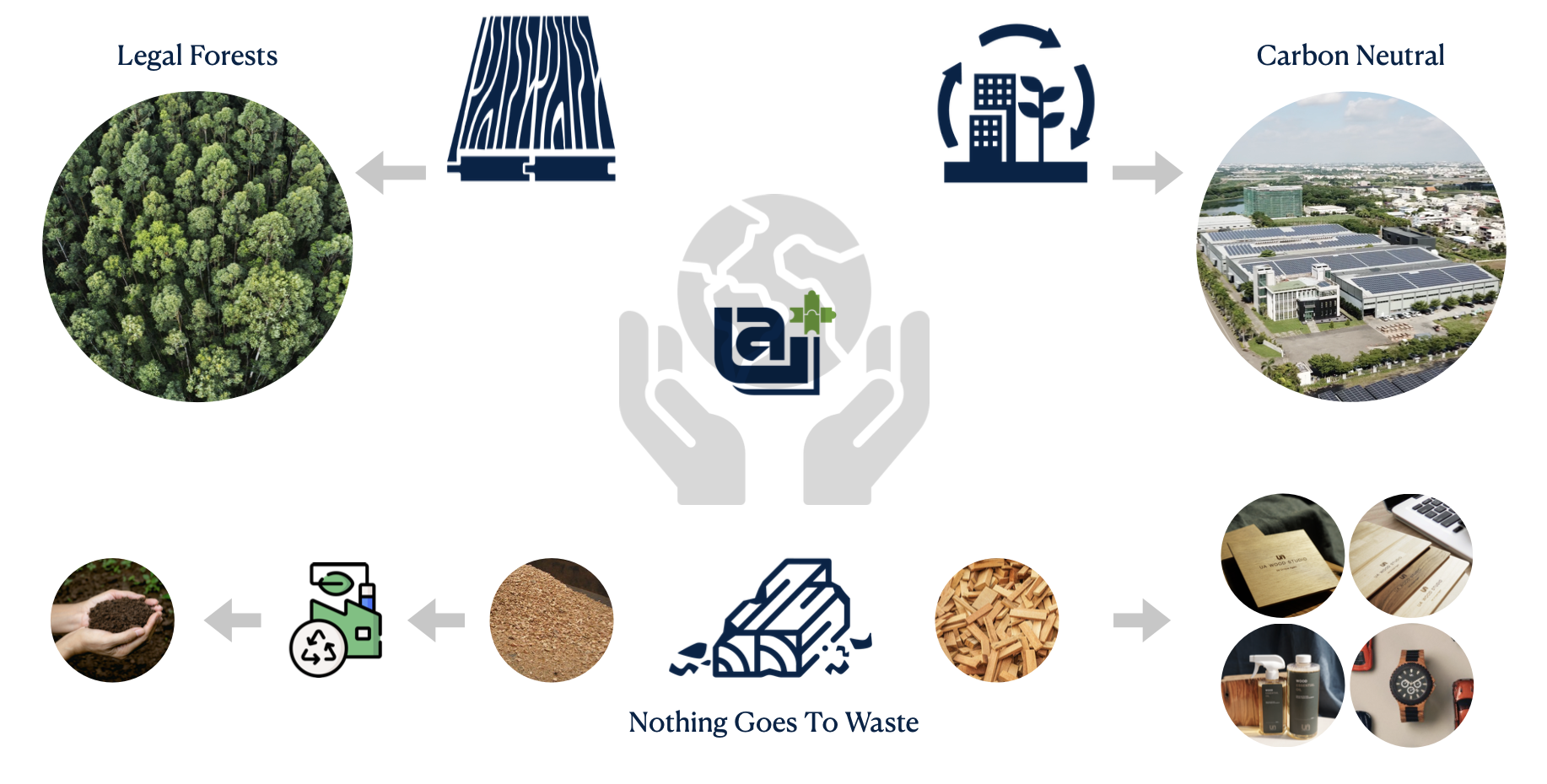 Before Products
This can refer to the sources of wood material. When it comes to wood flooring, deforestation may come to mind, assuming that manufacturer will hurt the eco-system by cutting off a great number of trees. In fact, that is not the case. Take Ua Floors as an example. All of material of Ua Floors' products comply Lacey Act requirements and strictly sourced from legal logged woods which are well harvested and managed. We cut off those old ones and plant new ones back. We recognize deforestation indeed is a global issue, and we are not willing to be a contributor of this problem. Therefore, we take great care to ensure that all of our hardwood comes from certified green sources and comply all Lacey Act.
Products
We implement solar panels on the roof of all the factory. As we all know, solar power is the conversion of renewable energy from sunlight into electricity. It is the cleanest energy and emission free. Unlike fossil fuels, solar energy application can also dramatically reduce greenhouse gas emissions - which is the so-call carbon dioxide (CO2). And currently the amount of carbon dioxide that we have saved by solar panels is equal to our factory carbon footprint. This is our first step to be carbon neutral.
After Products
For those wood waste, we immplement "3R" to bring contribution to global sustainability in our daily manufacturing processing.
Reduce, Reuse, and Recycle

For the larger one, we recycle and reuse them to make another brand new wooden products, such as cup cushions, mouse pads, essential oil, and wooden watches.

For the small one, like sawdust, we recycle them and transform them into fertilizer, which can be utilized on plants growing.
Products You Can Trust
To provide safe products to our clients, we also obtained some international certifications. Our engineered products are certified as below:
Under Toxic Substances Control Act TITLE Ⅵ of U.S. Environmental Protection Agency

Meet Phase Ⅱ formaldehyde emission standards of California Air Resource Board

Meet E0 European formaldehyde emission standards of European Regulations

Meet Japanese emission standards JIS (Japanese Industrial Standards) / JAS (Japanese Agricultural Standards)

Meet Lacey Act Requirements

Far infrared ray exclusive patent in U.S., Japan, and China

Anti-microbial Certification

Floorscore Certification
Adhering strictly to the detailed environmental protections, as well as the federal Lacey Act. With a special focus on global net zero & sustainability of our mother earth, we will actively keep putting much more efforts on ESG actual actions and advocate all our employees from our daily energy-saving operation, so as to make greater impact and contribution on sustainability for future generations.
Your Trustworthy Partners on Your way to Building Home!