Tips and Tricks to Lengthen your Engineered Hardwood Flooring's Lifespan
Engineered hardwood flooring installations are an important investment in the beauty of your home. They will influence the color palette of your rooms, the kind of furniture you choose, and probably the kinds of activities you will conduct around them.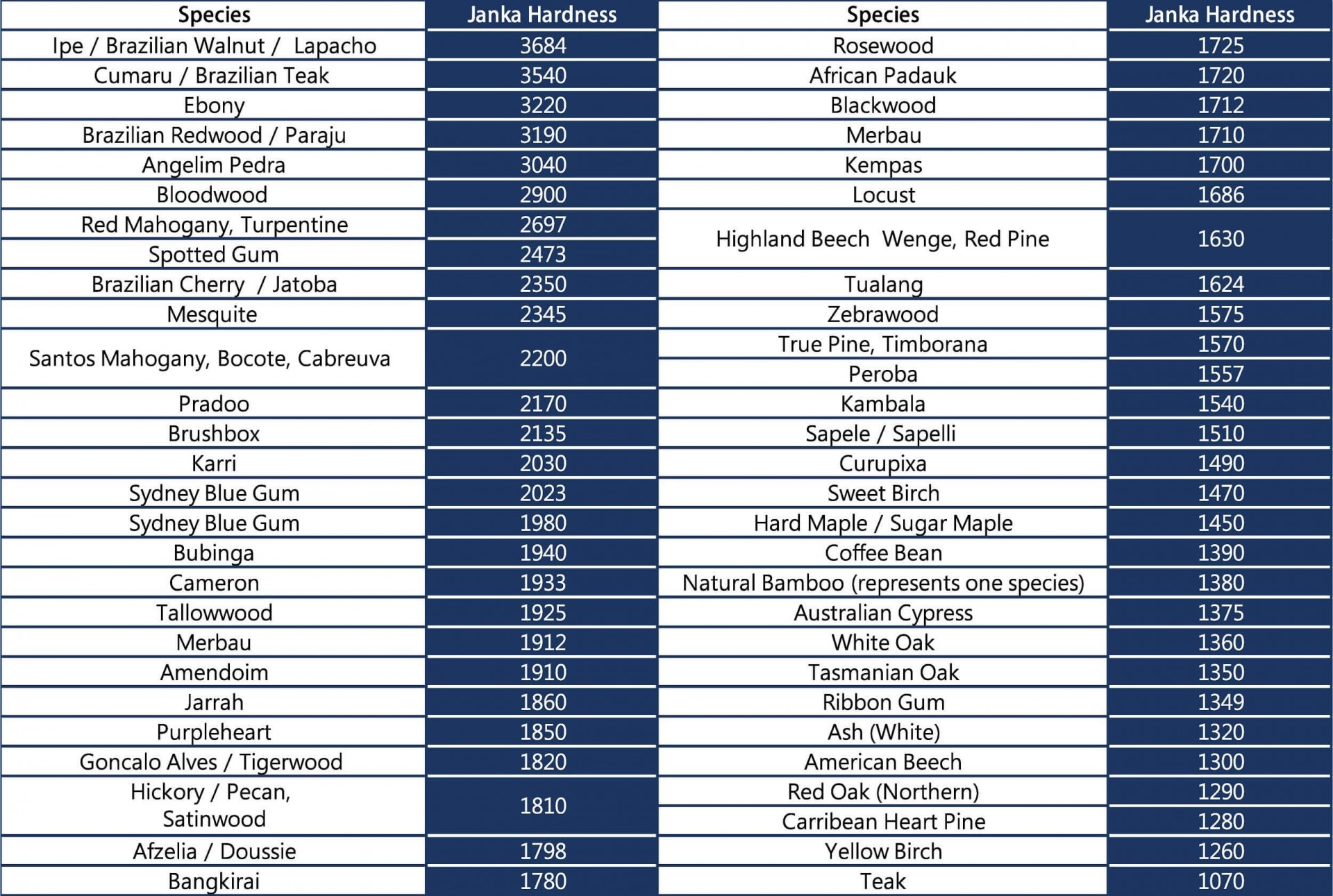 Many of the engineered hardwood floor products we offer have a Janka Hardness rating ranging from 1070 (like Teak), all the way up to 3685, like Brazilian Walnut (also known as Ipe). Brazilian Cherry or Jatoba, which is a popular choice with our clients, ranks at 2350. However, you can still do your part to protect your flooring from unnecessary scratches, staining, discoloring, or other types of damage caused by exposure to water and moisture.
As we've mentioned in another blog post, Ua Floors engineered hardwood flooring is naturally anti-bacterial; it is self-sanitizing and self-healing. We've also said that its nanolized mineral surface coating provides with many health benefits that take care of blood circulation, metabolism, even your immune health system.

We'd like to provide you with more tips on how to maintain your engineered hardwood flooring surfaces to extend its life to 20-30 years or even more. With routine cleaning and regular maintenance, you will have amazing wood flooring surfaces to enjoy for more than one generation.
Regular cleaning
Keep your floors regular dust and free of any other abrasive material, such as sand from the beach, pebbles, or gravel from the street – sweep with a clean broom or Swiffer, or vacuum, making sure the vacuum brush is also dust and sand-free.
Clean floors regularly with our UA Floors Floor Care product, which contains wood essential oils which will clean, moisturize, and nourish the wood.
When mopping, use a back-and-forth motion along the length of the wood, or in any case, in the same direction you always use to sweep or vacuum. Mop in batches to let areas dry quickly.

Regular Maintenance
When it comes to maintenance, here are important things you should remember.
Avoid wax products or oil-based cleaning detergents. They will change the color of your wood stain, damage the hardwood finish, and make your floor dangerously slippery. There's also a risk you could damage the flooring to a point where complete re-sanding and recoating will become necessary.
Do use water-based, PH neutral detergents that are easy to wipe off your floors. If in doubt, test in one area before applying all over your flooring.
Water is your flooring's major enemy. Mops should never be wet when cleaning your floor. If any liquid is spilled, wipe or blot it immediately to protect both the surface and the interior layers of your flooring.
Sand is your flooring's second-worst enemy. Sweep and vacuum immediately.
Use mats in the following areas: entrances and exits, as well as areas near sinks, dishwaters, and kitchen workstations that expose floor areas to water, oil, and soap. Shake off dirt and dust regularly; remove, wash, and dry mats when they get wet.
Install felt pads on the feet of your furniture - tables, sofas, and chair legs – to avoid scratches. Keep these pads clean.
Avoid walking on your wood surface floors with high heels or specialized sports shoes with cleats, like soccer or baseball shoes, that can scuff or scratch the flooring. Pet claws can create deep scratches on the flooring as well, so we encourage you keep pet paws regularly trimmed and groomed.
Our natural wood products have been assembled and treated to handle moisture and humidity, but we still recommend keeping ambient moisture levels between 40-60 percent. It's also good for your health, not just your flooring! To do this, you may use a dehumidifier or install dehumidifying air conditioning systems that will protect your flooring from expanding and contracting when the seasons change.
Don't worry if your flooring eventually starts to discolor; it's natural with age. To prevent any more discoloration, however, you may choose to move around your furniture, reduce direct sunlight exposure by closing curtains, and reducing other strong light sources that hit directly upon your flooring.
Replacing Damaged Flooring

Sometimes the damage to an area of your flooring happens, and a replacement feels necessary. That's why we always recommend buying or saving some extra planks of your chosen engineered hardwood floor for any possible repairs.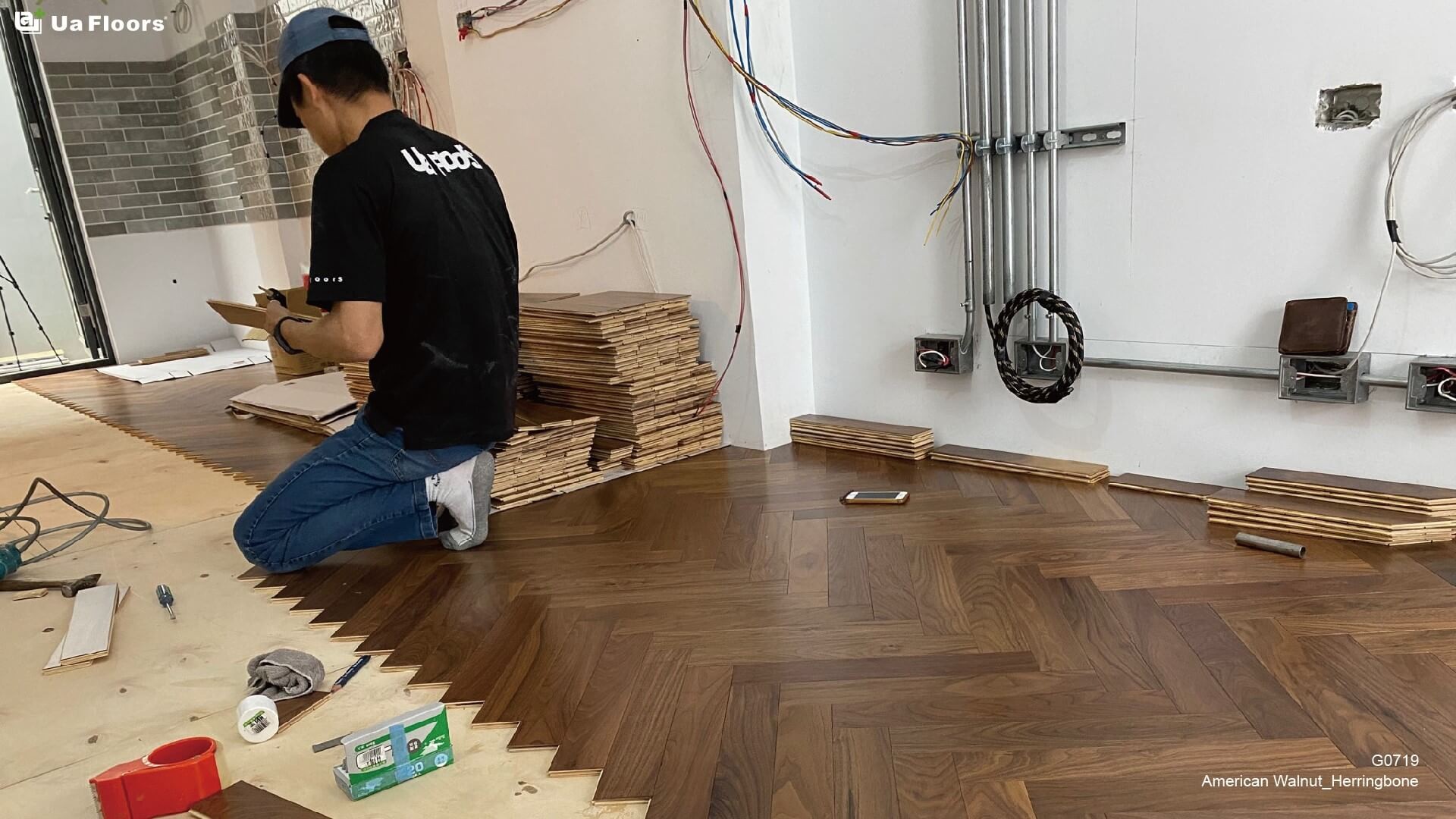 We do not recommend DIY reinstallation work if you don't have professional tools or installation expertise. Instead, please call your local Ua Floors dealer or a trusted home builder to do the professional task of repairing your floor.
Our tongue and groove flooring is easy to remove and to reinstall in 15-20 minutes, so the time and effort you will spend on this effort will be relatively minimal.
To ensure optimal repair and reinstallation please ensure the following.


Hardwood flooring storage conditions
Please store any extra planks in the original box in an enclosed, dry location, or the pieces will expand and be difficult to install.
Subfloor cleaning
Clean all sub-floors, sanding if necessary with #20 grit sandpaper. Maximum level tolerance is 3/16 inches per 10 ft.
Wood sub-floors must be dry, with moisture level under 12 percent, and nailed or screwed down every 6 inches, with an 1/8 inch gap around the perimeter.
Sheet vinyl should be clean and level, with no debris.
Refinished concrete subfloors have been cured for at least 60 days and stay completely dry all year round.
Ambient humidity
The moisture content of our engineered hardwood flooring products is at 8 percent (+/- 2 percent) when it is shipped out of our factories.
To ensure your wood flooring performs at its best, and to remain consistent with our product warranty terms, kindly ensure humidity levels around the jobsite area remain within 30-50 percent, with temperatures of 60-80°F/15-26°C at the time of installation. Some wood movement can be expected in the 6-9 percent range; outside of this range, wood may shrink or expand dramatically.
Always feel free to please send us your queries or talk directly with your local dealer partners and distributors. More installation guidelines can also be found here.