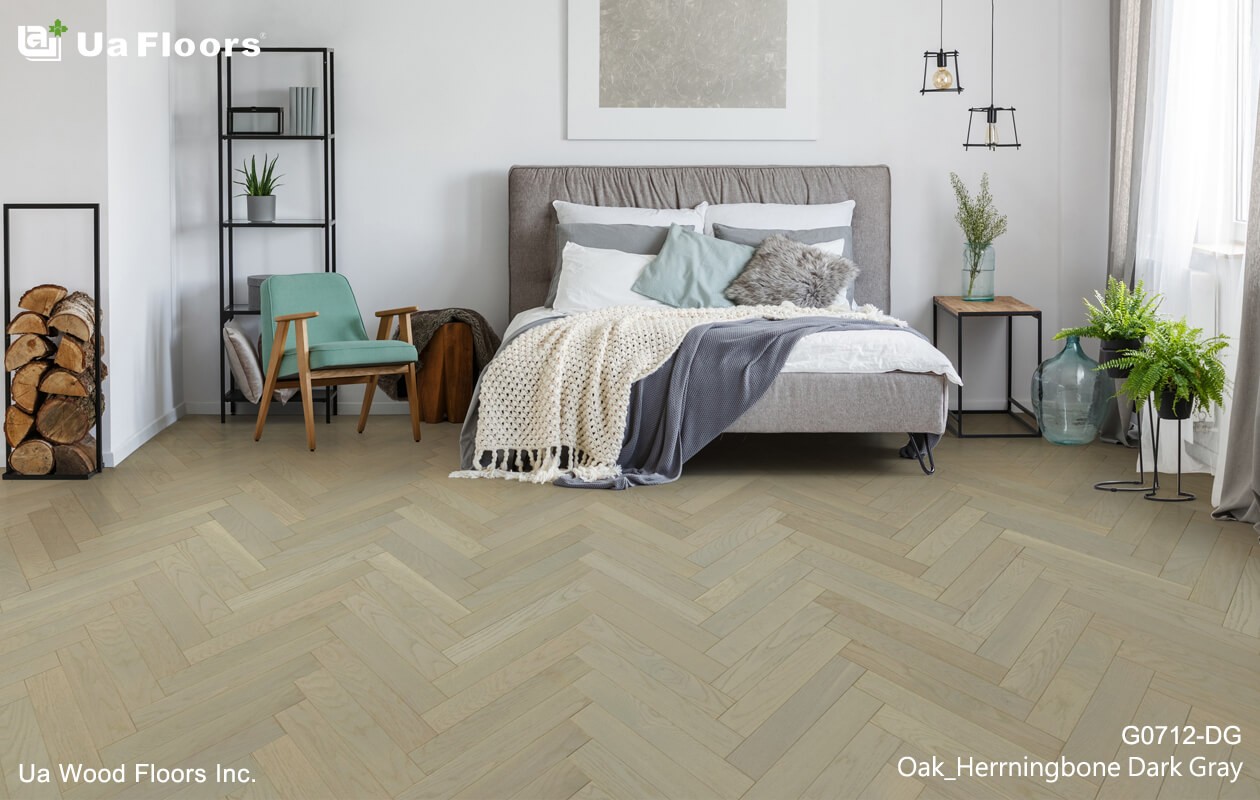 (Our hardwood floors are more cost-efficient but still maintain the best quality.)
When it comes to flooring installations, many homebuilder companies and professional floor fitters now recommend engineered hardwood flooring as an attractive, cost-effective alternative to solid hardwood flooring.
One of the biggest advantages of engineered hardwood flooring is the way it approximates the look and feel of solid hardwood flooring while (a) using much less precious hardwood material and (b) costing only a fraction of what it takes to obtain, process, and install solid hardwood.
Engineered hardwood manufacturers have also mastered wood veneer production using Tongue & Groove (t&g) wooden planks – the same plank assembly and installation used for classic hardwood flooring.
The Advantages of T&G Engineered Hardwood Flooring
T&G engineered hardwood flooring's offers distinct advantages over hardwood flooring, especially when it comes to installation. Let's mention some of these advantages here:
1. T&G engineered flooring needs no room acclimation before installing. In fact, acclimation is discouraged, because the fitting between engineered wood plans is snug, aiming for a seamless look.
2. Installation is possible over the same subfloor surfaces that work with solid hardwood. This includes wood, plywood, and even concrete – although concrete should be cured for several weeks and tested for humidity content before installation.
3. T&G engineered hardwood can be installed with water or solvent-based glues directly onto other materials like synthetic overlay or sheet vinyl. These glues dry quickly and efficiently and make this engineered wood material much less vulnerable to temperature changes, humidity, and the application of subfloor radiant heat sources.
4. Floating and nail-based installations are doable with a lot less effort. While it is true that t&g engineered flooring still requires the assistance of qualified wood fitting professionals, it is less labor intensive and costly than hardwood floor fittings.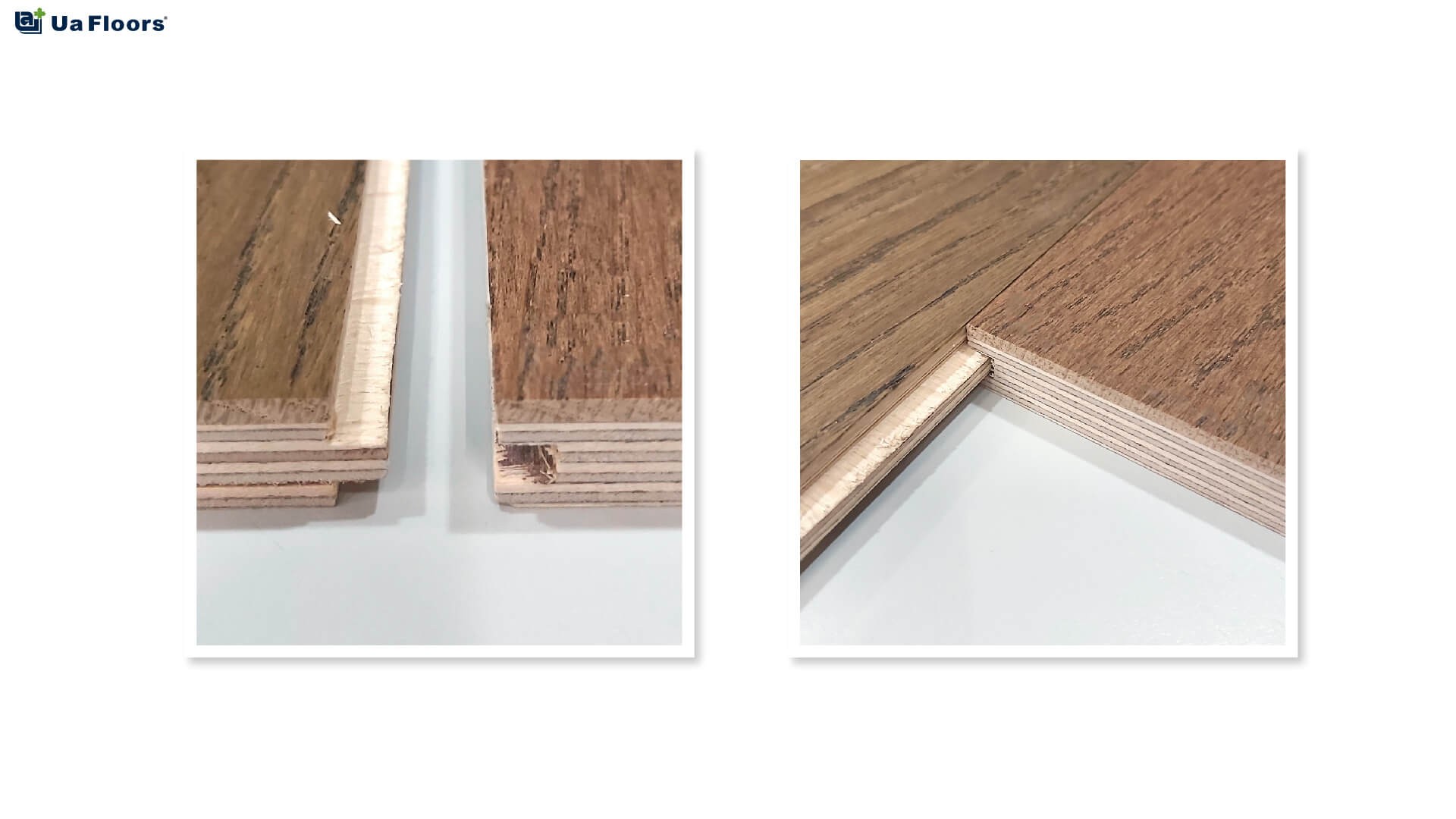 (Tongue and Groove Engineered Hardwood)
Overall, many professional home-builders do not have a concern with t&g flooring installation, given their familiarity with the same installation method for hardwood flooring.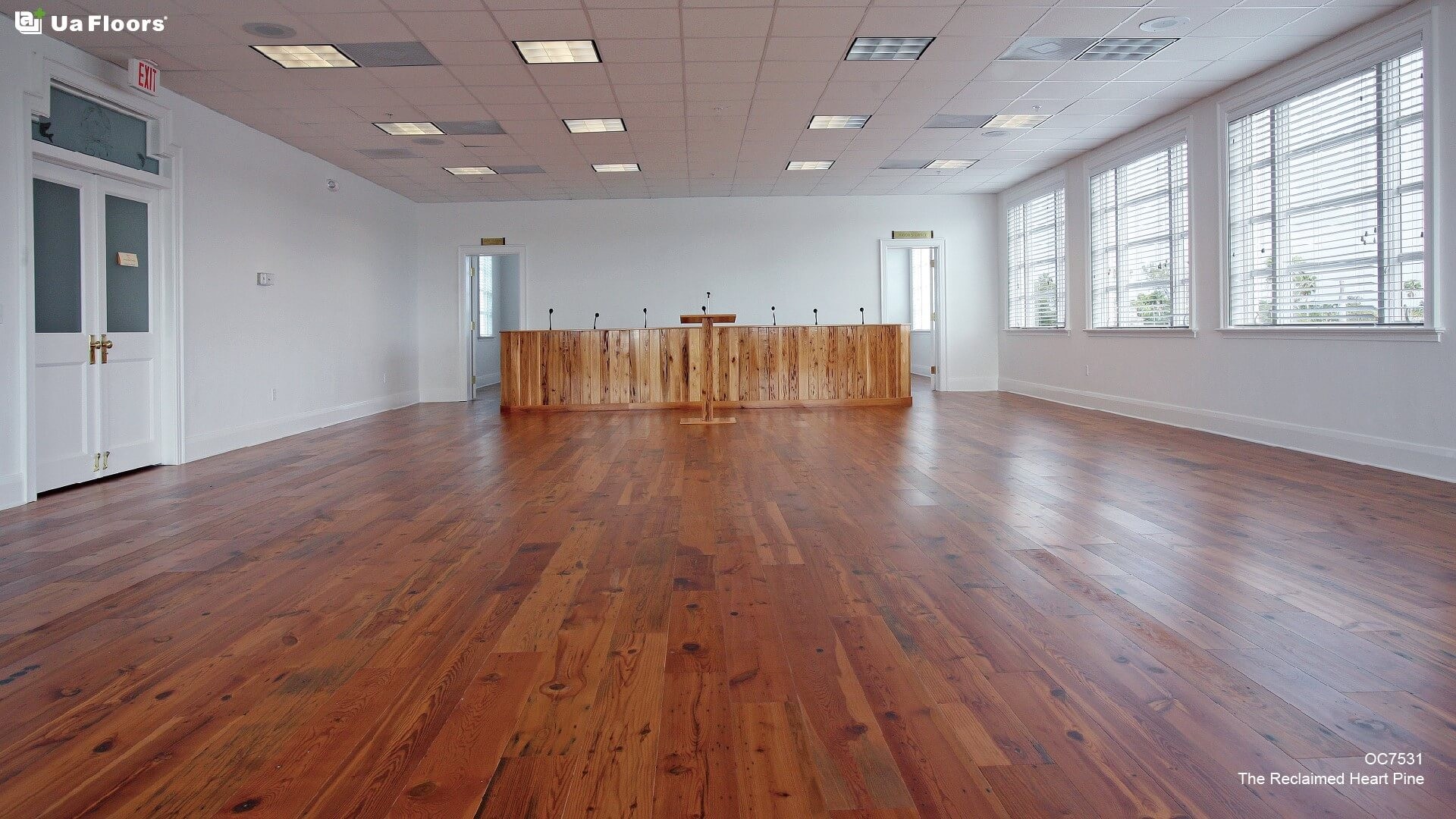 We provide T&G floors:
| | |
| --- | --- |
| Ua T&G Floors | OTHER T&G Floors |
| Far Infrared Ray | No additional functionality |
| All birch plywood (Stable and solid) | Malay plywood or other mixed wood plywood |
| Provides AB grade leather for selection | No top floor leather choice |
| International Certifications | N/A |
Click-method floors: another advance over solid hardwood flooring
Making things even easier for homeowners and home building contractors is the advent of click-method or click-together flooring options – engineered wood planks that are now even easier and less costly to install than t&g engineered flooring.
Click-method offers three installation possibilities that excited homebuilders even more.
It is relatively much easier to install click-method flooring than t&g – So much so that even it's becoming a popular DIY alternative. T&G is not easy to do without professional assistance; click-method flooring much less so.
Click-together is a true floating method installation option. Expansion gaps are necessary for t&g and click-together wood planks, too, but it is actually possible to "click" and "lock" two adjacent pieces of wood with the aid of a hammer – and that's it. No nails and no glue are needed if you don't want them.
The range of subfloor options is even wider. Wood, vinyl, concrete, cork, and even tiles are a subfloor option, provided the floor surface is level and dry.

Does this mean interest in solid hardwood flooring is decreasing?
Engineered T&G

Solid T&G

Click

The thickness of the leather can reach 4mm

n/a

n/a

Medium price

High-end price

Low-end price

Can be refinished

Can be refinished

Unable to be refinished

As we move forward into the 21st century, more and more upscale and luxury buyers of solid hardwood products are becoming more concerned about their sustainability.
Part of the reason interest in hardwood flooring has taken a step back is for environmental reasons. Hardwood floor sourcing from some of the world's most exotic locations is magnifying the impact of climate change. For some, the concern is a lack of guarantees on ethical sourcing of many hardwoods.
For others, the biggest concerns are more practical. They have to do with solid hardwood plank installation, and the amount of effort that goes into protecting this kind of flooring from water, humidity, insect attacks, as well as surface scratches.
In addition to sourcing and transport, inconsistencies in solid hardwood treatment can also lead to costly repairs or substitutions. In contrast, wood that contracts as a result of over-drying – usually from contact with radiant heating sources – creates unsightly gaps in the wood and collect amounts of unsanitary debris.
T&G and Click-method flooring: The Way of the Future
In future, UA Floors foresees the use of t&g flooring as the cost-effective, ethical alternative to solid hardwood flooring. As precious wood sources around the world continue to be depleted, engineered hardwood flooring replicates the experience and beauty of hardwood flooring without the same kind of environmental risks.
Its hardwood flooring surfaces are also certified for ethical sourcing according to accepted forest protection standards mandated by the Forest Stewardship Council (FSC) and the EPA.
Should you wish your home construction firm to look into engineered hardwood flooring, recommend UA Floors' t&g flooring options. UA Floors will also unveil its newest line of click-method engineered hardwood flooring very, very soon.
Get in touch with us to discuss your custom orders. We'll be producing a custom order that suits your requirements. Send us pictures of your project and leave us a message here.