What is Engineered Hardwood Flooring?
Engineered wood flooring is a type of wood flooring. They are made of real wood from top to bottom. The top layer is pure and real wood, which can come in a wide variety of species, colors, and textures. The middle one can be multiple layers of plywood or solid wood running the opposing directions. For its structure, engineered hardwood flooring is therefore quite strong and stable. Typically, engineered hardwood flooring is structured accordingly:
Top layer (real hardwood available in various species)
Profile (tongue and groove or click)
Core layer (one or multiple plywoods glued together in an opposing direction)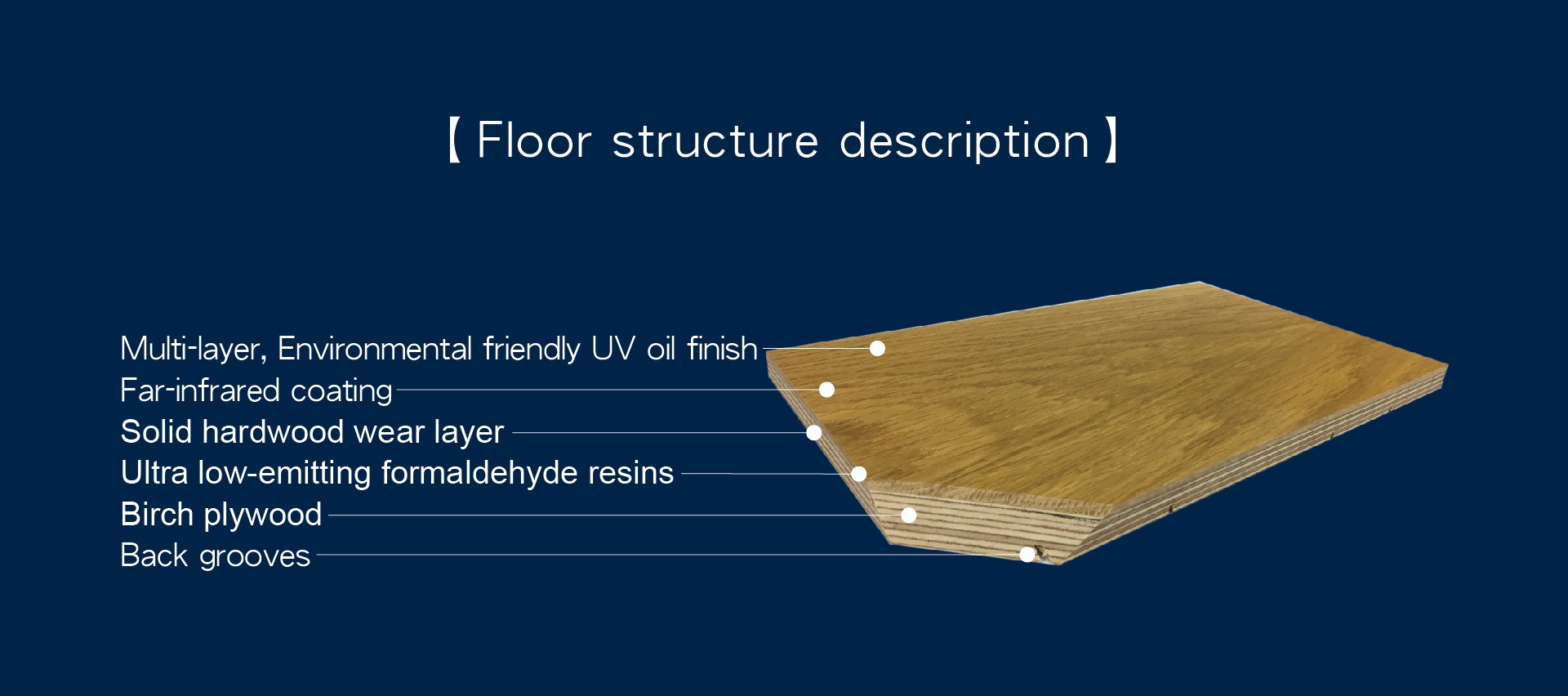 Since engineered hardwood floors are constructed out of a varying amount of layers, these flooring products can be categorized according to the number of plies. Essentially, consumers can choose between
2-Ply Engineered Hardwood Flooring
3-Ply Engineered Hardwood Flooring
Multi-Ply Engineered Hardwood Flooring
2-ply engineered hardwood floors are constructed with two piles of wood. The bottom layer is strong and durable plywood, while the top layer, a real and natural hardwood, provides the surface color and design.
3-ply engineered hardwood floors are made from three layers. The three main layers of 3-ply engineered hardwood flooring include the: lamella (or top layer), the core layer, and the base layer. All these three layers are made of real hardwood.
Multi-ply engineered hardwood floors are made of multiple layers: the top layer, a core layer of several plywoods glued together. The topmost plies are also known as the finished surface while the core layers provide strength, stability, and support.
Multi-ply engineered hardwood flooring is the most stable one among all the types of engineered hardwood floors. We will focus on it and talk about its benefits in this article.
The advantages of multi-ply engineered hardwood floors include
Stability
Durability
Affordability
Easier installation
Versatility
The Pros of Multi-Ply Engineered Wood Flooring
Stability
When it comes to stability, multi-ply engineered hardwood flooring is definitely a wise choice, especially when compared to solid hardwood flooring or 2-ply and 3-ply engineered hardwood floors, primarily due to its multiple crisscrossed layers. These additional layers give it the capability to withstand fluctuating moisture and temperature levels. For its unique construction, it is also less likely to expand or contract as much as solid or other types of wood flooring do.
Durability
Multiple engineered hardwood flooring is made up of layers and layers of plywood, making it strong, sturdy, and durable, allowing it to endure high foot traffic in residential and commercial spaces. It can withstand constant movement in busy environments like the living room of a family's home or an open setup office floor.
Affordability
Multi-ply engineered hardwood flooring consists of a layer of real and natural wood as its top veneer. It usually takes less solid timber to manufacture, which makes it more affordable than solid wood flooring. Apart from the material, it's also more cost-effective on labor when you choose engineered hardwood floors. Since it's easy to install and time is money, saving time is saving your budget in the meanwhile.
Easier installation
Multi-ply engineered hardwood floors are also easier to install over different kinds of surfaces, especially when their profile suits your desired application. Whether it's a T&G or click-lock system, the stability and durability of multi-ply engineered hardwoods ensure their performance
Versatility
Because of its structure, multi-ply engineered hardwood flooring can also be customized, allowing it to be a versatile choice. You can have it in various widths, thicknesses, and lengths, or choose a different finish or species, so you can style your floors the way you want.

Ua Floors is Your Trusted Supplier of Efficient Multi-ply Hardwood Flooring
Ua Floors offers a wide range of engineered hardwood flooring supplies sourced from the most common and exotic species through eco-friendly and sustainable practices. We believe that our customers should have access to a comprehensive selection of high-quality flooring products, so we constantly work on expanding our catalog in order to fulfill our customers' needs.
So, depending on your needs and preferences, the advantages of multi-ply engineered hardwood floors make it the ideal choice for homeowners who need beautiful flooring that can withstand heavy traffic areas.
With Ua Floors, you'll have peace of mind knowing that our selection of multi-ply engineered hardwood floors offers you these benefits. Contact us today for more information.