Why are Engineered Wood Floors Manufactured?
Engineered hardwood flooring offers the beauty as solid wood floors does, but is delivered in such a way that it can be used in locations where solid woods aren't suitable. Since solid hardwood floors are prone to warping, swelling, and shrinking when exposed for prolonged periods in moist and humid environments because of their structure, they cannot be used in certain spaces, such as basements and kitchens. Engineered hardwood flooring performs better in such places due to its special composition.
First, here are some fast facts on engineered hardwood floors:
Engineered wood floors perform better for some spaces, such as basements and kitchens, and even bathrooms.
Engineered wood flooring products offer more flexibility because they don't swell like solid hardwood floors.
Given these features that make engineered hardwood floors a good option, here's what you need to know about how these products are made. There are different types of engineered hardwood floors:
Two-layer
Three-layer
Multi-layer
The multi-layer engineered hardwood is what Ua Floors offers: a top layer of real wood and several layers of plywood. This gives the flooring product reinforced durability by adding to the engineered hardwood's resistance and resilience to warping compared to solid wood.
How Are Engineered Wood Floors Manufactured?
Hardwood flooring's popularity is largely thanks to its undeniable appeal, whether it's solid or engineered hardwood floors. The demand for engineered hardwood flooring continues to grow, primarily due to its unique advantages. But have you ever wondered how engineered hardwood flooring is manufactured?
When compared to the way solid strip flooring is manufactured, engineered hardwood flooring supplies are a different conversation. The former takes a much simpler and faster process, as opposed to the latter, which takes several layers of preparation, with every other manufacturing mill having unique and specific steps in the process.
Ua Floors Engineered Flooring Production Process
Ua Floors, a leading brand and the largest wood flooring supplier in Taiwan with a 360,000-sq.-ft.-production headquarters, has the capacity to manufacture a maximum of 20 million sq. ft. of flooring a year. From material storage to green practices such as the sustainable use of wood, Ua Floors manufactures engineered wood floors through a meticulous process that involves the following steps:
Step1: Top veneer width and Length fixing
This step involves fixing the width and length of the top veneer that had been sliced from the log. These different species of logs are sourced from all around the world to present more product variation to our customers.
Step 2: Top Veneer thickness and sanding /selecting
After fixing the width and length, fixing the thickness of the top veneer, sanding, and then selecting the veneer with uniform thickness, no defects, no broken boards.
Step 3: Plywood board thickness fixing and sanding
This step involves fixing the thickness of a multi-layered plywood board as the substrate and sanding for the next step, including gluing the board with the top veneer. Ua's birch plywood uses a single species, to cross one layer by one layer, which ensures stability.
Step 4: Gluing and constructing the flooring board
With professional equipment, it ensures gluing uniformity and improves efficiency in the process. Using environmentally safe adhesive, we glue the veneers to the substrate and have it pressed to manufacture the flooring plank. The substrate is then pressed with the veneer and again pressed for greater internal stress. Lastly, the flooring planks are left to stay in constant temperature and humidity, which makes it a more stable quality of the gluing.
Step 5: Cutting into the ordered size planks
This step involves cutting a glued board into the ordered size plank and preparing it for the next step, which is the Tongue and Groove process.
Step 6: Tongue and groove
In this process, the accuracy of milling will decide the quality of the flooring, therefore, our online operators are all well trained and experienced. They will follow SOP so as to ensure quality.
Step 7: Finishing and coating
After the tongue and groove, finishing and coating are the final processes. Our one-stop coating line with sanding area, coating area, and UV light heating area help make the coating surface more uniform and delicate. In this step, finishing and coating using colorants with FIR are special in Ua's brand, which can enhance the body's blood circulation when stepping on the wood flooring.
Step 8: Packing
Packing with random lengths into either the standard packing boxes or customized sizes by following the standard packing methods in detail is the final step. This process includes ensuring nice and protective packing, which can keep the wood flooring safe during the delivery journey to customers.
Essentially, these eight steps subscribe to the general process involved in the manufacture of engineered wood flooring. Typically, the process follows this sequence:
Cut-to-length
Sanding and grading
Hotpress machine
Automated bonding to meet European standards E1/E0 grade non-toxic plywood
Precise tongue-and-groove profiling
UV coating with nanotechnology
With environmental-friendly hardwood flooring that meets the highest standards, Ua Floors provides safe products that are globally certified. That being said, before the finished product reaches end-users, the manufacturing of engineered hardwood floors generally follows this process:
Sourcing and manufacturing the veneer
Storage and milling of logs for wood flooring
Veneer drying and assembly
Pre-finishing, sealing, and top coating
Let's focus on the significant features of engineered hardwood flooring. What it is made of and why do these matter? Find out below.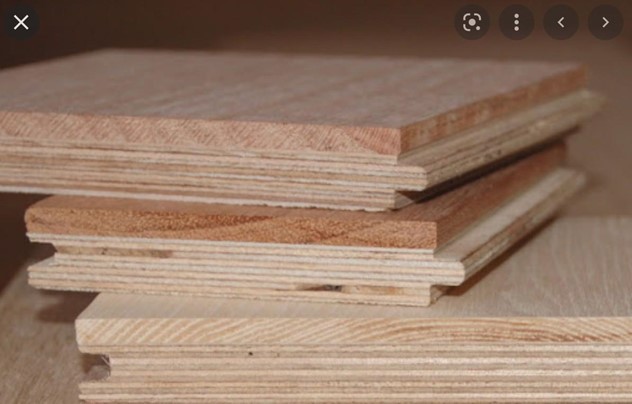 The Solid Top Layer
The top layer also referred to as the wear layer or lamella, showcases the wood's color and pattern. This lamina also showcases the type of wood species, various finishes, and a range of thicknesses. Again, relevant to the manufacturer or brand, the top layer of an engineered wood flooring product's quality can vary. There are premium and luxury products and low-quality yet affordable ones.
The wear layer for engineered wood floors can be constructed through
Sawing
Slicing
Rotary peeling
The thickness of the top layer can range anywhere from 0.5 to 6 mm, with most other products having 2 to 4 mm. Ua Floors can provide all the thicknesses starting at 0.5 mm and up to 6 mm.
The Plywood
The plywood of Ua Floors' engineered hardwood flooring is made of birch, which has a Janka hardness rating of up to 1470 and belongs to a boreal forest. Apart from its beautiful appearance, the density of the wood is uniform, the material structure is delicate and soft, the mechanical strength and elasticity are both high, the moisture absorption is large, and the processing performance is good. Its strength, anti-peeling properties, and good gluing properties make it a common material in flooring and plywood uses.
The birch plywood of Ua Floors is sourced from legal forests and conforms to the international formaldehyde F1 grade standard, structured through a criss-cross lamination method, which uses the shrinkage of the wood to restrain each other, thus giving the plywood excellent stability.
The thickness of the finished product falls anywhere between 9.5 and 18 mm, which Ua Floors can provide.
High Quality Engineered Wood Floors from the Trusted Global Supplier
Ua Floors, the pioneering supplier of innovative engineered wood flooring solutions on a global scale, utilizes high-quality materials and cutting-edge technology in manufacturing world-class flooring products. Feel free to consult our specialists and discover the right wood flooring for you.
For any questions or inquiries on wood flooring, don't hesitate to contact us today.