There are many different factors that make floorings necessary and depending on your needs and preferences, you have a wide range of floor covering options to choose from. So, why do you need floor covering anyway?
Floor covering is often used to protect the underlying structures of a building, such as the walls, subflooring, underlayment, etc. It also adds warmth and comfort to your living space, among other functions.
Your Flooring Options
Floor covering primarily serves to protect your floor, and depending on the type of material that you choose to cover your floor with, it can do this function in different ways. For instance, some materials like carpeting will provide insulation from noise and cold floors, while others such as wood will provide you with a warm and natural atmosphere. The most common types include carpets and area rugs, ceramic and porcelain tile flooring, laminate flooring, luxury vinyl tile (LVT, SPC, WPC), vinyl sheet and floor tiles, stone flooring, other resilient flooring like cork, linoleum, non-vinyl plastics, rubber, and of course, hardwood flooring such as solid and engineered wood flooring.
There are many different types of floor coverings available in the market today, and in this article, we will discuss some of them.
Carpets and Area Rugs
Carpets are generally made from fibers of yarn or fabric. Wool, cotton, artificial fiber, and silk are common types of carpeting material. Area rugs are used to accentuate any space in your home or office. You can place them on top of your flooring in order to add another touch of décor to the room.
Here are some of the different types of carpets and area rugs available in the market today:
Traditional Carpeting offers a pile that is deep, soft to touch, and durable. These are often made from synthetic fiber. Traditional carpeting is affordable, but its downside is that it can trap contaminants inside it, causing it to be difficult to clean. It also takes a long time to dry up.
Oriental Carpets, on the one hand, offers a pile that is about an inch thick, made from wool, and expertly woven with intricate patterns. Oriental carpets are durable, soft to touch, and they provide warmth to the room, but their pile is difficult to clean, and they are expensive.
Ceramic and Porcelain Tile Flooring
These are two of the most common types of floor covering materials available today. Ceramic and porcelain tile flooring come in different styles and patterns, as well as a variety of sizes and shapes, and there are also tiles that have intricate designs.
Tile flooring is available in two types: glazed and unglazed. The main difference between them is that glazed tiles already have a protective coating on the surface while unglazed tiles do not.
Ceramic tiles are made from clay fired at very high temperatures. These kinds of tiles provide insulation, and they are easy to clean. However, these tiles can be expensive, especially if you choose the more complex or hard-to-execute designs.
Porcelain tiles, on the other hand, are harder than ceramic ones but can be equally priced or even cheaper sometimes. They are also more resistant to stains and scratches.

Laminate Flooring
These kinds of floor tiles are manufactured by fusing high-strength materials like resin, paper, wood fiber, or plastic on top of a core material like high-density fiberboard (HDF). Laminate floor tiles can imitate the look of different types of materials like stones, woods, and more. They are easy to clean, but the downside is that they are not as durable compared to hardwood floors.
Luxury Vinyl Tile (LVT): SPC, WPC, and Luxury Vinyl Tiles
These types of floor tiles are made from different materials like polyvinyl chloride (PVC), polystyrene (PS), and wood. Luxury vinyl tile, also known as LVT, is increasingly becoming popular in the market today because it can offer high-quality flooring at a much lower price compared to traditional ceramic, porcelain, or even natural hardwood flooring. The downside is that they are not as durable as traditional types of floor covering.
SPC, or Stone Plastic Composite, is composed of polystyrene materials with some pigments, fillers, and other additives. As its name implies, SPC can imitate the features of natural stones like marble, granite, slate, and more. This kind of flooring is great for kitchens and bathrooms since it is slip-resistant.
WPC, or Wood Plastic Composite, is similar to SPC but is composed of mostly wood materials like sawdust, chips, and urea resin. WPC flooring is easy to clean since it doesn't accumulate dirt easily compared to other types of tiles. Plus, this kind of material can be recycled, so you'll be minimizing the effect of your home's carbon footprint on the environment.
Luxury vinyl tiles are easy to clean and come in varied designs including wood, stone, tile, and marble. They are made with non-porous materials that make them resistant to stains and water damage.
Vinyl Sheet and Floor Tiles
These kinds of floor tiles are made from vinyl, blended with some other materials like rubber or resin. These types of flooring are very economical since they are priced low, but at the same time, they are beautiful and can mimic the look of natural stones like marble and granite. Vinyl sheets and tiles come in a variety of colors and sizes to choose from, depending on your décor or personal style.
Stone Flooring
There are different types of stone flooring, including granite, slate, and marble. Stone floor tiles are durable and beautiful so they can add value to your home's interior design. However, stone tiles tend to be heavy, which makes it hard for them to withstand movements in the ground, so this kind of flooring is not the best choice if you live close to an active fault line, or if you plan on putting hard-surface flooring all over your property.
Other Resilient Flooring Materials: Cork, Linoleum, Non-Vinyl Plastics and Rubber
Floor tiles are made from non-porous materials like recycled rubber and plastics that are easy to clean and can be used indoors or outdoors, depending on their durability and resistance to wear and tear. These types of flooring are very eco-friendly because they only come from natural and recycled materials, like coconut husks, rubber, and soybean.
Cork flooring has high resistance to stains and moisture. It doesn't accumulate dirt easily, so it can be very easy to clean — just make sure not to expose cork tiles in areas where temperature changes regularly, since this kind of tile is vulnerable to warping due to humidity or other extreme weather conditions.
Linoleum flooring has been around for over a hundred years. It is made from natural ingredients like linseed oil, cork powder, and wood flour. This kind of flooring can resist stains, moisture, and scratches so it is great for kitchen floors because you can easily wipe spills off the material.
Non-vinyl plastic flooring, meanwhile, provides a resilient surface that can resist being dented or scratched. Tiles made from plastic are easy to clean, so they are great for heavy foot traffic areas, like hallways and living rooms.
Rubber flooring is perfect for the outdoors since it has a high resistance to moisture. With rubber tiles, you can be sure that your home's outdoor porch will not be slippery when it rains.
Hardwood Flooring
Another common type of floor covering includes wood floors, such as solid hardwood flooring and engineered hardwood flooring. While there are many flooring products in the market that showcase "wood flooring," there are parameters to consider in an actual hardwood flooring product. According to the National Wood Flooring Association (NWFA), real wood flooring can be defined as a flooring product that uses real wood material as the wearable surface layer. That being said, real wood flooring products can be categorized into three:
Solid wood flooring contains a concrete piece of natural wood from top to bottom.
Engineered wood flooring is also made from natural wood from top to bottom, manufactured with multiple veneers or layers bonded together.
Composite engineered wood flooring is made with multiple layers of composite material bonded together in its core and backing layers while its wearable surface is made from natural wood.
Hardwood flooring is dense and stronger than other types of materials, such as tiles and linoleum, and they can be varnished, oiled, waxed, stained, polished, and refinished. The features of hardwood flooring include:
A natural and warm feeling that only real wood can offer
A versatile way to style and design spaces
An endless choice of unique patterns and natural knots on the surface
Apart from these features, using hardwood flooring also helps protect the environment for its sustainability and it also creates a vibrant atmosphere in any home – whether it has a classic or rustic look – thanks to the warmth that it brings. However, an important point to remember when choosing wood for your floors is that not all woods are suitable for home interiors.
Engineered hardwood flooring is an innovative way to design and style your floors, whether it's for residential, commercial, or industrial use. With a surface layer that is 100% natural wood, engineered hardwood flooring gives your floor the appeal and warmth of real wood, but the durability of a flooring product that isn't as malleable in extreme temperature changes. When compared to solid wood flooring, engineered hardwoods offer more advantages, primarily because it is the more durable option thanks to its construction, which makes it more resistant to damage.
If you want to know more about engineered hardwood flooring, get in touch with Ua Floors!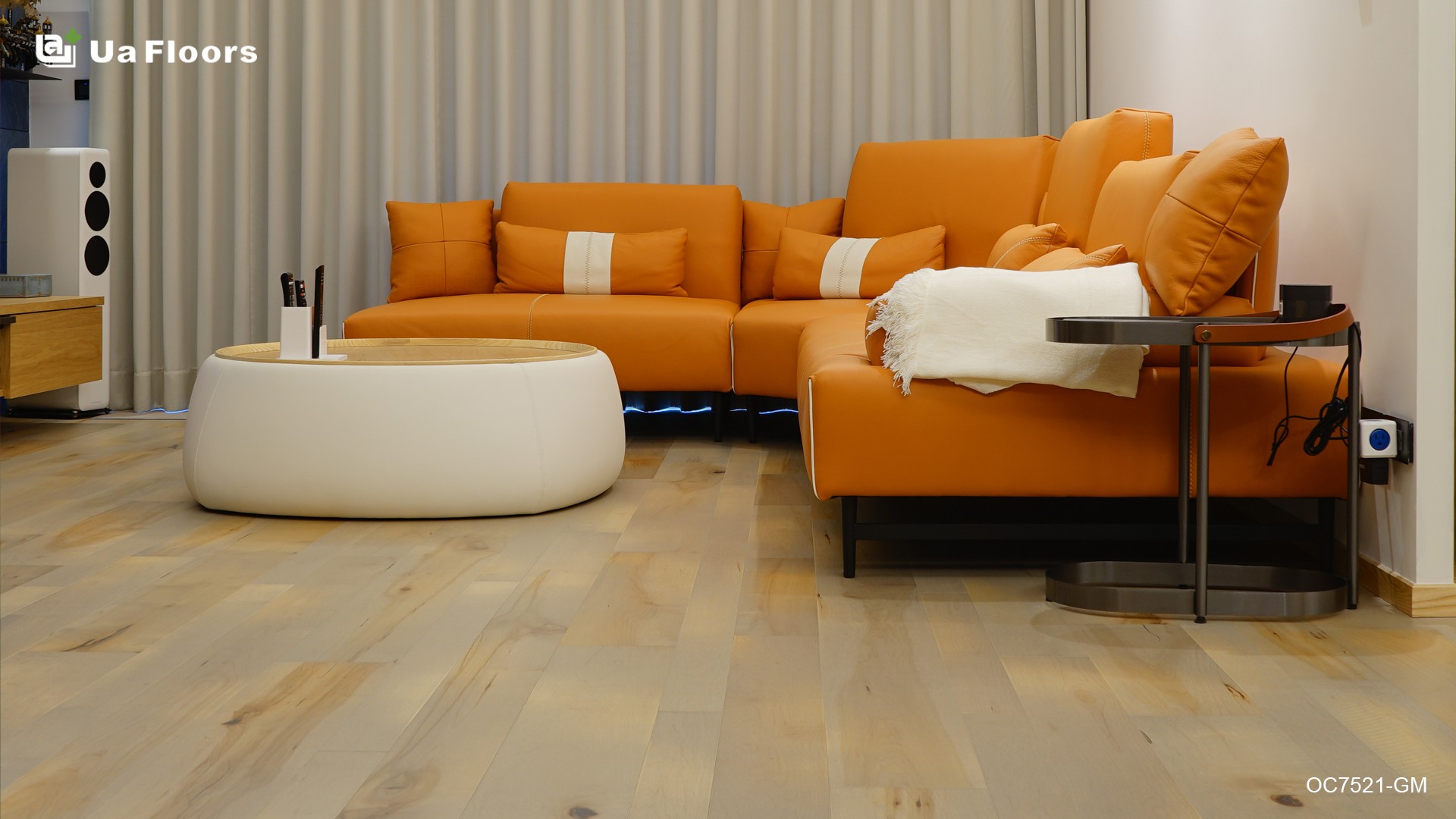 Ua Floors is Your Reliable Flooring Provider
Regardless of the floor covering that you choose to go for, it is important to consider maintenance. Maximize the ROI of your chosen flooring material by making sure it is cleaned regularly and well-taken care of, whether you have carpeted floors, stone-covered, or hardwood floors, among others.
But when it comes to engineered hardwood flooring solutions, Ua Floors is the supplier that you can rely on — your trusted global supplier. With almost three decades in the flooring industry, our sustainability practices and innovative wood flooring products continue to pave the way for better living spaces and overall quality of life.
👉🏼 Contact us today for more info.