There are many types of wood flooring products, and for good reasons, too. Not only does it give consumers more options, it also allows for more specific designs. And given the inherent visual appeal and durability of hardwoods, many people choose to have it installed in their homes, offices, commercial spaces, and even in rooms designed for industrial use.
In this article, we'll discuss two of the more popular wood flooring options today: solid wood flooring and engineered hardwood flooring.
What are the differences between solid wood and engineered hardwood floors?
The primary difference between solid and engineered hardwood flooring products can be seen in the plank's construction.
What is Solid Wood Flooring?
Solid wood floors are also known as traditional wood floors, as they are made of one solid piece of 100% hardwood, which is the oldest way of crafting wood flooring products. Some features of solid hardwood floors include:
Easiest to manufacture
Easiest to access
What is Engineered Hardwood Flooring?
Engineered hardwood floors, meanwhile, are made of multiple layers. This type of flooring product is composed of 100% natural hardwood as the top layer and several layers of plywood crisscrossed and bonded together as its core.
Given the manner engineered hardwood floors are constructed, constant changes in temperature, such as moisture or humidity, are less likely to cause cupping, expanding, or contracting in the flooring.
Engineered hardwood floors are available in the same solid hardwood species, but because of their multi-layered construction, there are more designs to choose from, such as flooring products using softer exotic wood species and extra-wide planks. This makes engineered hardwood floors suitable for a variety of styles.
Unlike solid hardwood floors, however, the construction of engineered hardwood floors allows it to perform in basements and over radiant heating and concrete floors. That said, bathrooms and laundry areas are still to be avoided, but compared to solid hardwood floors, you can expect engineered hardwood flooring to fare better against water damage and humidity.
Given their difference in construction, here are the following distinctions to be made between solid wood and engineered hardwood flooring:
Stability
Resistance to Moisture
Dimension
Sustainability
Lifespan of the Wood Flooring
Prices
Stability
Stability refers to the flooring's capacity to remain dimensionally faithful to its structure, and while solid hardwood floors are more likely to expand, warp, contract or shift due to changes in humidity, engineered hardwood floors provide greater resistance and stability thanks to its multi-ply construction.
Resistance to Moisture
Solid hardwoods are not an advisable flooring solution for any damp space or location where there are high levels of moisture or heat, such as over radiant heating systems or below-grade installations, because they offer less resistance to humidity.
Engineered hardwoods, on the other hand, offer more resistance to any moisture in the air and can also perform in spaces with higher temperatures. And because of their structure, engineered hardwood flooring products have the capacity to sustain their quality much longer when compared to solid woods.
Dimension
When it comes to width, solid wood flooring options are limited compared to engineered hardwood floors. Most solid wood floors have a plank width of 2 1/4 to 5 inches, while engineered hardwood planks measure in at about 5 inches and up. This makes engineered hardwood floors suitable for large spaces and are faster to install.
And with more room for structural innovation, engineered hardwoods are available in wide plank flooring options that offer more in one piece, often utilized to enhance the design and feel of any room or space.
Sustainability
Another difference worth noting between solid wood and engineered hardwood flooring is their sustainability. Solid wood flooring requires natural wood all the way through to the bottom of the flooring product, which necessitates the use of more natural resources in the process.
But given the way that engineered hardwood flooring products are constructed, they are considered as a sustainable approach to natural wood flooring, albeit only applicable to the first layer, since less trees are cut down to manufacture the top layer of wood.
The lifespan of Wood Flooring
The lifespan of wood flooring products is dependent on the thickness of its wear layer. Solid wood floors usually offer a thicker wear layer when compared to engineered hardwood flooring. The longevity is up to the thickness you choose. Though solid wood can usually be sanded and refinished more times than engineered hardwood can, the thicker top veneer of engineered hardwood can also deliver the same results.
Prices
The costs of installing solid flooring is usually more expensive, because of the material cost and installation fee. More materials needed means more resources, and in this case, more raw materials equate to more costs. With more raw materials like unfinished wood, manufacturers will also need more bandwidth or manpower from their team to prepare the planks.
This makes solid wood flooring more expensive to manufacture, as opposed to engineered hardwood flooring products, which then drive up its price.
Price of the floors is affected by numerous reasons such as cost of raw material, manufacture, marketing, distributing …etc. When we are comparing products with the same species from the same manufacturer at a same retail store, we will usually see the solid wood flooring costing more than the engineered wood flooring. The reason is likely to be the thickness of the wear layer. Solid wood flooring generally has a thicker wear layer than engineered wood flooring, which offers more re-sandable times. On the other hand, engineered wood flooring uses plywood as its structure, making it much more dimensionally stable than the solid wood flooring.
The Key Advantages of Engineered Hardwood Flooring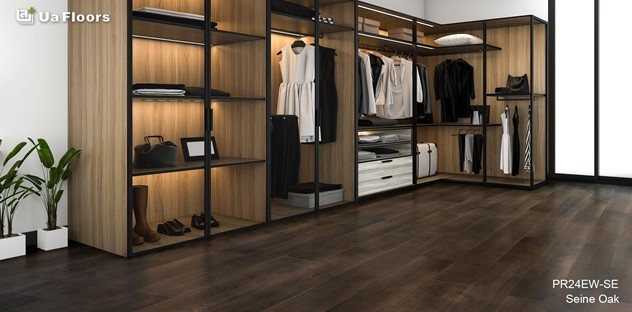 In highlighting the difference in construction, engineered hardwood floors offer the following key advantages that set it apart from solid wood flooring:
Its multi-layered structure provides better stability
It resists humidity and performs better against higher temperatures
It offers more dimensional options like wider planks
It promotes sustainability
It can last for decades through sanding and refinishing
It costs less than solid wood floors but delivers the same visual appeal
Ua Floors is Your Trusted Supplier of Engineered Hardwood Floors
Ua Floors, the global supplier of safe, sustainable, and high-quality hardwood flooring, continues to pave the way towards providing clients with non-toxic, healthy, and green flooring products that deliver true and lasting value.
Visit our selection of engineered hardwood flooring products and contact us today for any inquiries.