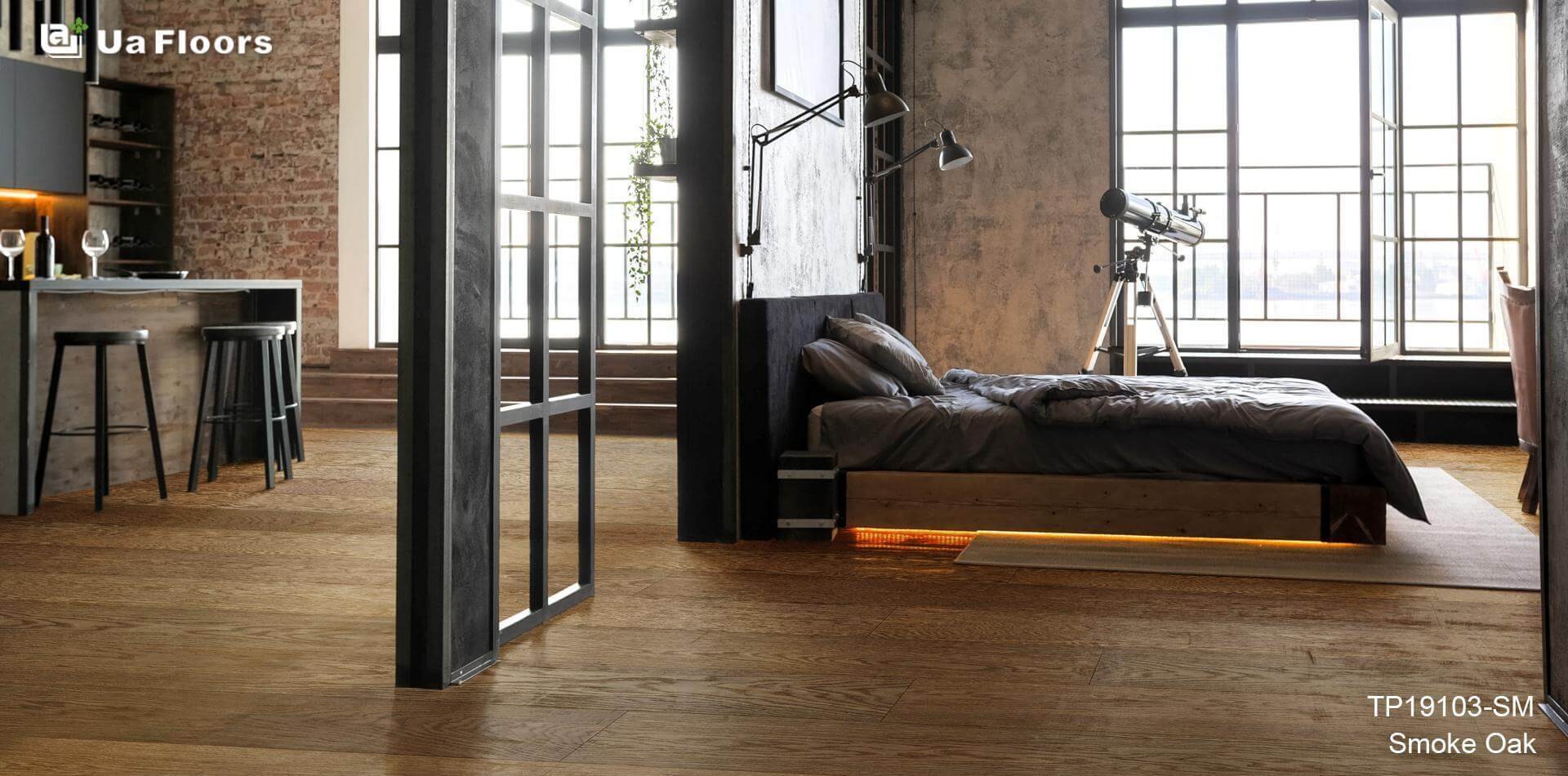 Whenever you're in need of high-quality exotic engineered hardwood flooring, Ua Floors is right here – readily available to deliver your flooring needs and more!
Ever since engineered wood flooring came around in the 1960s, we've witnessed how its appearance, performance, and technologies gradually developed into what it is today. From shiny red oak to matte finishes of dark walnut and hand-scraped effects, engineered wood offers a lot of choices. The numbers speak for themselves as this type of flooring product has become quite popular, with around 52 percent of all wood flooring sales in the US being engineered hardwoods back in 2019. It's the leading cost-effective alternative to solid hardwoods.

That being said, if you're interested in engineered hardwood flooring, but aren't too familiar with it – here are the qualities that you'll want to check:
Flooring Size and Wood Thickness
Wood Hardness and Softness
Wood Grade
Flooring Size and Wood Thickness
In choosing the size of your hardwood flooring, your options can range from 0.375 inches to 0.5 inches, or 0.3125 inches to 0.75 inches, depending on the manufacturer's lineup or collection. So, what will you want to look for when browsing flooring sizes and wood thicknesses?

Engineered hardwoods are typically wider than solid hardwood flooring. This means that you'll likely get to cover more floor space at less costs when you choose to install engineered hardwood flooring. Given this benefit, it'll be advantageous to go with engineered hardwoods (as opposed to solid hardwoods) if budget is a concern.

And when it comes to wood thickness, it is recommended that you go with engineered hardwood floors that offer an overall thickness measurement of 0.625 to 0.75 inches. Since engineered hardwoods are composed of multiple layers, it helps to go with a wear, veneer, or surface layer that measures around 0.1875 inches, bonded to a 9- or 11-plywood backing or core layer.

Depending on the new space, you'll want to get the right flooring thickness, because this can also enable more installation options. Apart from tongue and groove (T&G) installation systems, thinner hardwood floors might require nailing down, while thicker ones can also be glued to the subfloor with an adhesive.

It helps to remember how size and thickness can also influence longevity through the capacity of a flooring option for sanding and/or refinishing.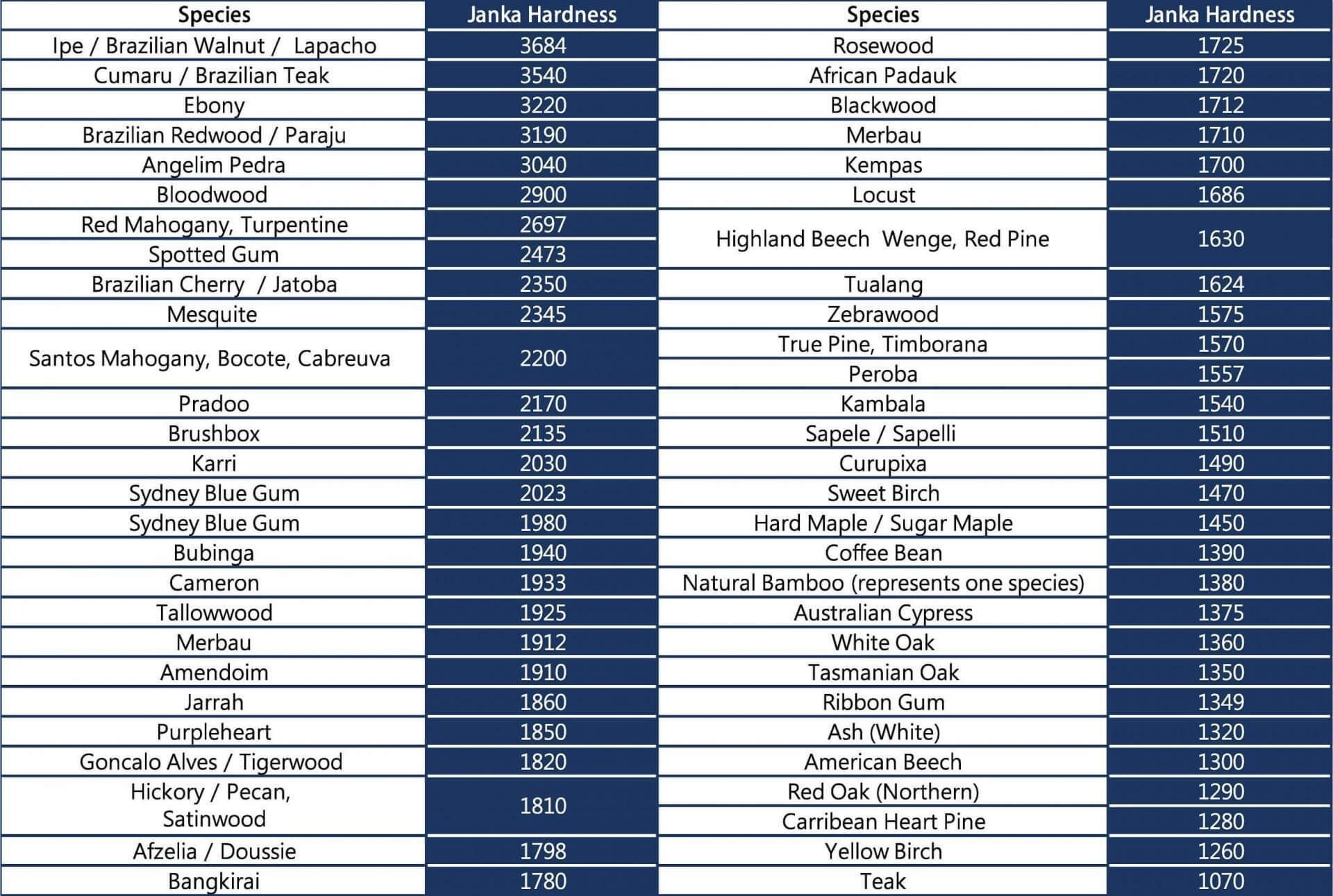 Wood Hardness and Softness
Relevant to your engineered wood flooring solution are the tree species that you choose as the surface layer. With an extensive range of options, such as Brazilian Walnut, White Oak, and Black Cherry – just to list down a few – you can choose the look that you prefer while also having resources on these wood species' hardness or softness levels. Douglas Fir, for example, is among the lightest and softest woods.

So, if you're looking for an engineered hardwood floor that is both strong and durable, refer to the Janka Hardness Scale for more details on the hardness of the different wood species.
Veneer Floor Grade: ASBCDF
As earlier mentioned, there are many options to choose from, so you can install distinctive floors to go with the space's design. Apart from species, engineered hardwood flooring is also available in varying grades, which refer to the characteristics of the veneer. Here are the common grades you'll find in the hardwood flooring market:
A-Grade veneer refers to the surface layer of engineered hardwood flooring with high-quality characteristics most suitable for clear finishes.
S-Grade veneer comes as a close second to A-Grade, having similar characteristics but aren't fully compliant with the standards to classify it as A-Grade. This veneer grade may contain some discoloration, stains, hobnails, knots, and holes.
B-Grade veneer refers to the surface quality of engineered hardwood flooring that is most suitable for high-quality paint finishing.
C-Grade veneer refers to solid surfaces that require some filling to the wood's holes and gaps. This type of veneer grade offers a a non-decorative surface, which means it'll require a surface layer laid on top of it.
D-Grade veneer refers to similar types of wood of C-Grade veneer, but without the fills and retouches. It is considered as the lowest grade due to the "imperfect" characteristics, such as open knot holes. This type of veneer grade is most suitable for non-decorative use.
F-Grade veneer refers to reject grade materials. These types of panels or sheets are unsuitable for use, failing to meet the minimum standards.
Depending on the project, choosing the correct and appropriate veneer floor grade can help you allocate your budget accordingly.
What to Look for in Engineered Hardwood Floors: A Summary
In summarizing this list of qualities to check in engineered hardwood floors, here are the three things you can ask your sales specialist: flooring sizes and thicknesses, wood hardness or softness, and the wood grade. Given these three qualities, you can find a way to work around your budget, weigh your options, and still accomplish the design you've envisioned for any new space. Now you know why engineered hardwood floors are taking over the market – it truly is a beautiful and cost-effective flooring solution with a wide range of advantages.
Don't hesitate to reach out or contact us today for any questions or inquiries.