Exotic engineered hardwood is a popular topic in flooring discussions. Many supplier-distributors in the United States, Asia, and around the world look for prized, hardwood quality sources of wood that is "exotic."
But what does "exotic hardwood" in this context mean, exactly, and what does it imply for hardwood sourcing and flooring solutions for your future clients?
What is exotic hardwood and what is its appeal?
Simply put, exotic hardwoods are hardwoods that are not endemic to the country they're offered to. If you're in the US, an exotic hardwood will come from areas like South America, Asia, Africa, or Australia.
These exotic hardwoods are deciduous trees that flower yearly – trees that lose their leaves until the next flowering season. They grow more slowly and have a denser timber than softwood trees, which are coniferous, and mostly evergreen, that don't flower or shed.
Just like other kinds of wood, exotic hardwoods can be treated, cut, and usually processed into planks. They can also be shaped into tiles or blocks by skilled timber and hardwood manufacturers and installed over many subfloor surfaces. Well-maintained exotic hardwood flooring can last for decades and age well with time, with much less scuff or damage than many types of softwood.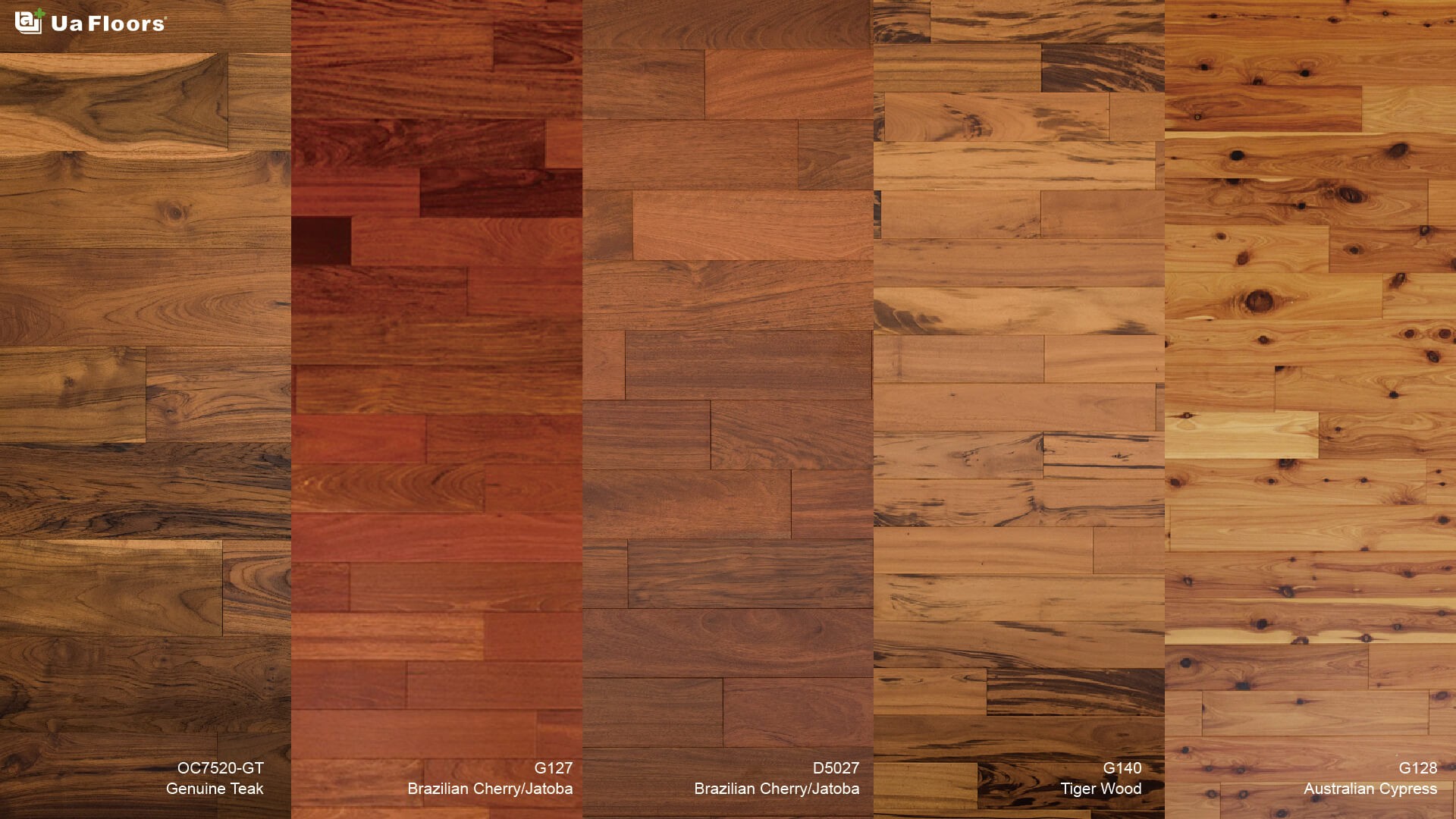 (The picture above shows various exotic hardwoods)
Why use exotic hardwood material?
There are many reasons why exotic hardwood is in demand. Two of the biggest reasons are its beauty and durability.
Beautiful exotic hardwoods make unique statements about their provenance. Tigerwood (Astronium spp, Brazilian Koa, or Goncalo Alves) is known for its highly contrasting grain that looks like the stripes of a tiger. Australian Wormy Chestnut, actually a tree from the Eucalyptus family and not a chestnut tree, is a resilient tree that survives fires, droughts, and attacks from worms and insects.
For others, the appeal of exotic hardwood is about grain, color, or the hardness of the wood. Wenge (Millettia Laurentii, African Rosewood) is a richly hued dark, reddish-brown wood with dark brown or purple veins. Santos Mahogany (Myroxylon Balsamum, Cabreuva, or Palo de Balsamo) is also a deep, dark red brown wood that's harder and stronger than classic Mahogany.
Sheen, color, and unique grain patterns of hardwood flooring can create specific moods for living rooms, bedrooms, home offices, and libraries. An exotic hardwood's color influences a room's color palette and can shape furniture and wall color choices.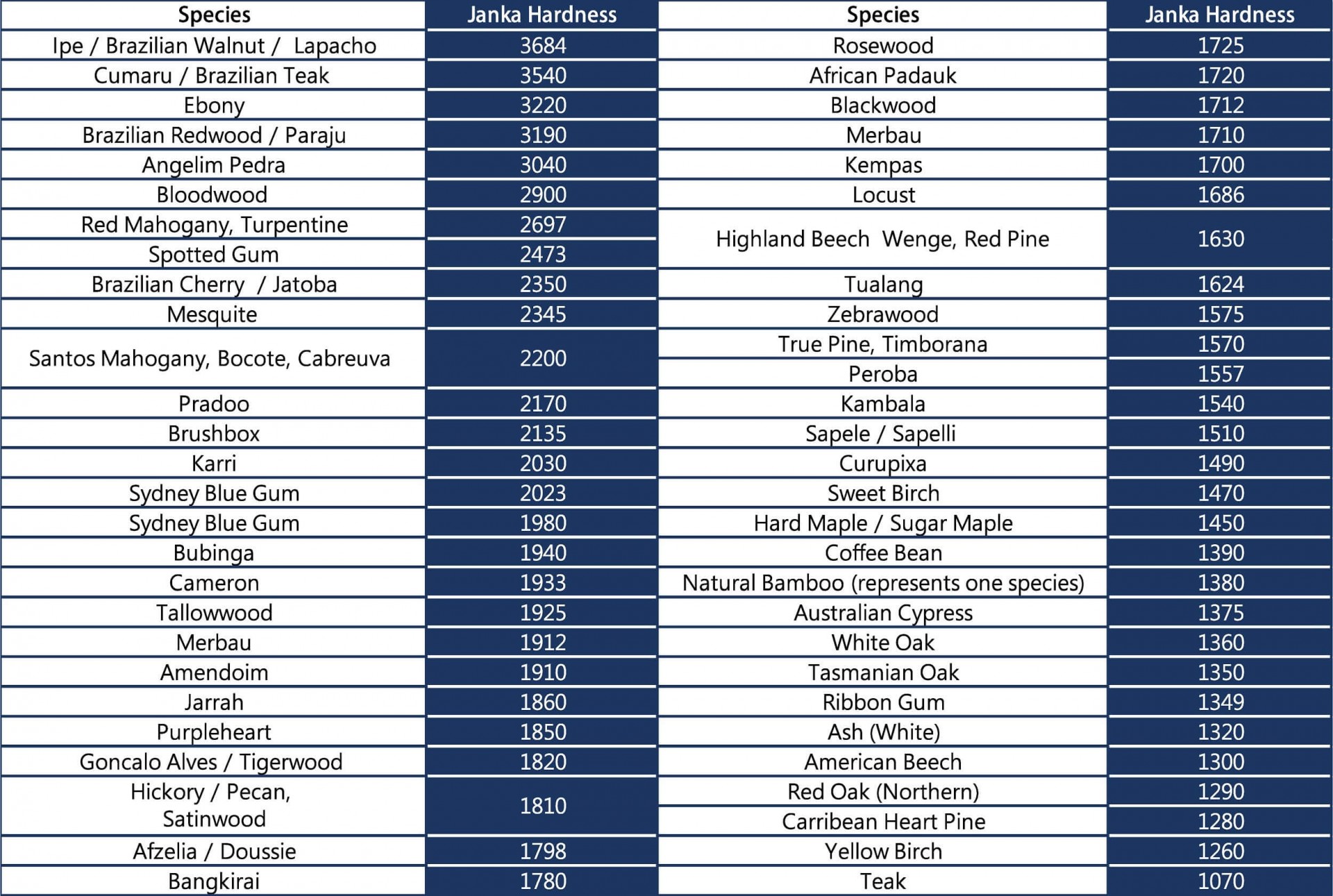 (The picture above shows the hardness of various woods)
Hardness of our Hardwood Species /Janka Hardness
When it comes to durability, many hardwoods will outperform and outlive many softwoods. Properly treated, kiln dried, and finished hardwoods are much less vulnerable to insect attacks, or wood rot, which is caused by excessive moisture and fungi. Wood hardness and durability ensure the hardwood you're installing can last for decades, in homes that can be passed from one generation to the next.

Depending on the hardwood you choose, you will have a wood that can withstand heavy pounding, scratching, or natural wear – and can, in any case, be re-sanded and finished to give the surface a refreshed look.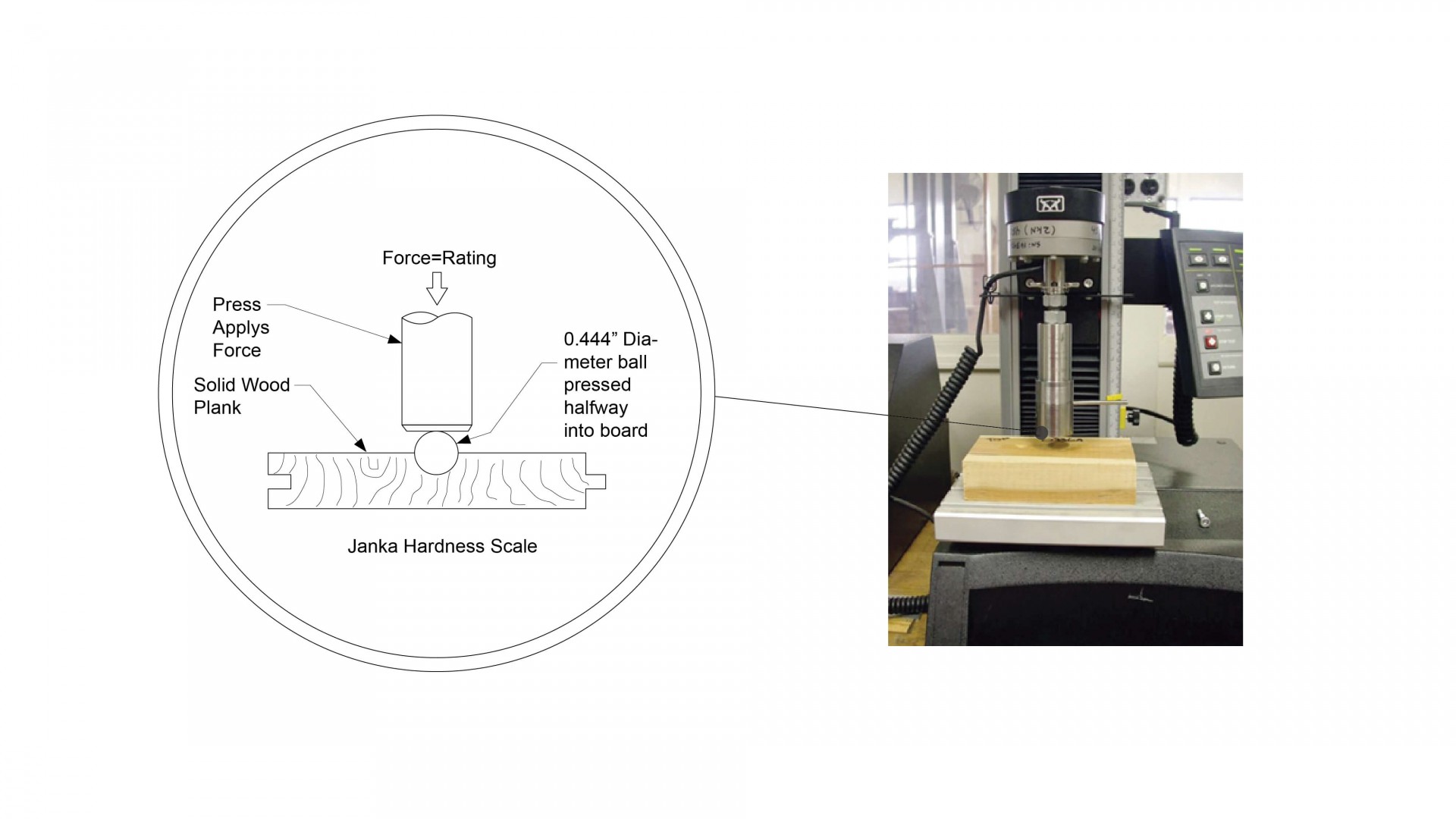 (We use the Janka Hardness Scale to measure the hardness.)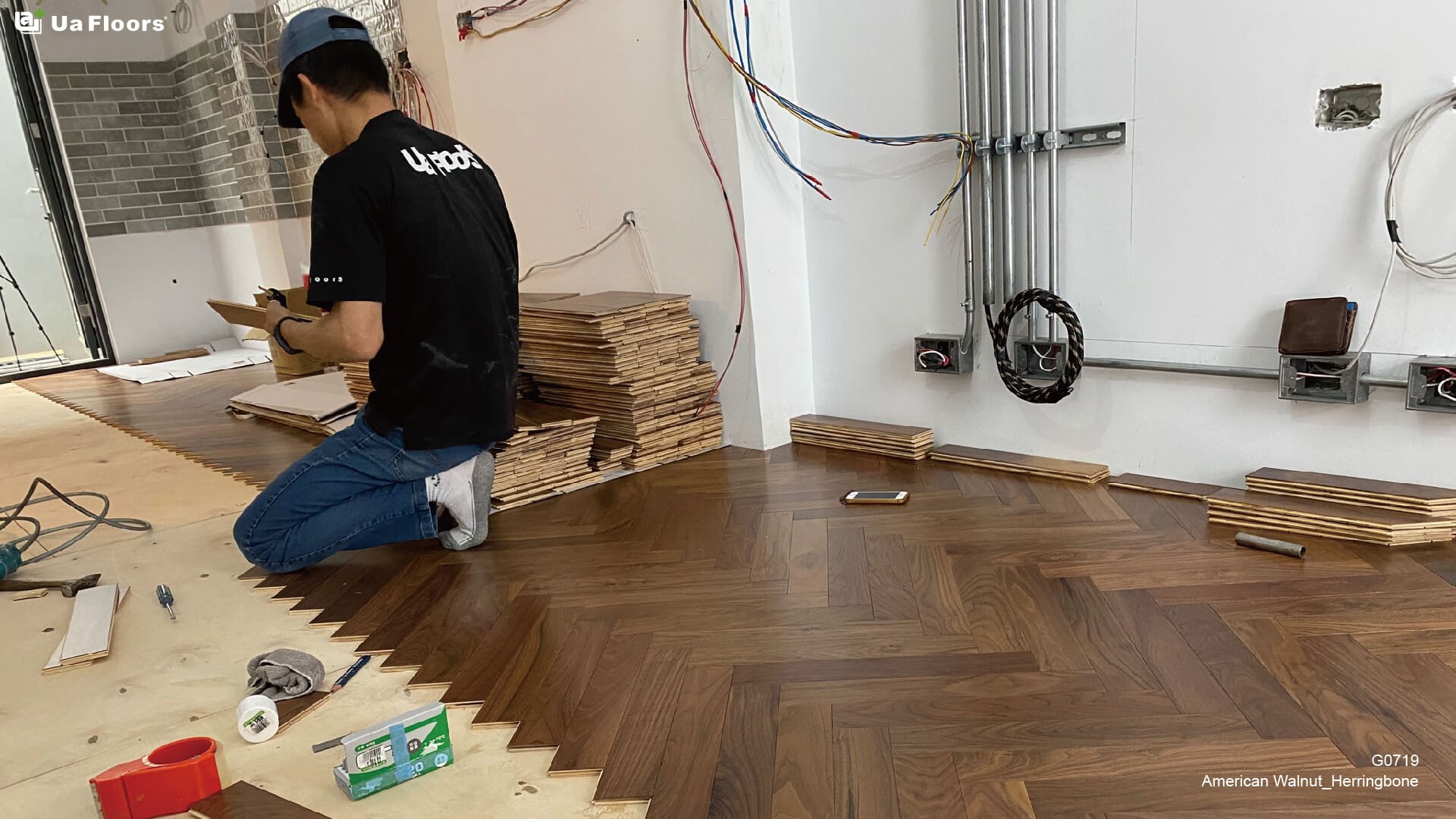 (UA Floors staff carefully install the floors)
Nordic Interior style creates dramatic patterns with exotic hardwood that's been stained into contrasting colors to complement Nordic-style interiors that use bleached, unvarnished wood furnishing and soft, textured accessories in various shades of white, gray, and blue. This room uses UA Floors' Teak Herringbone parquet flooring from our Grecian Herringbone collection.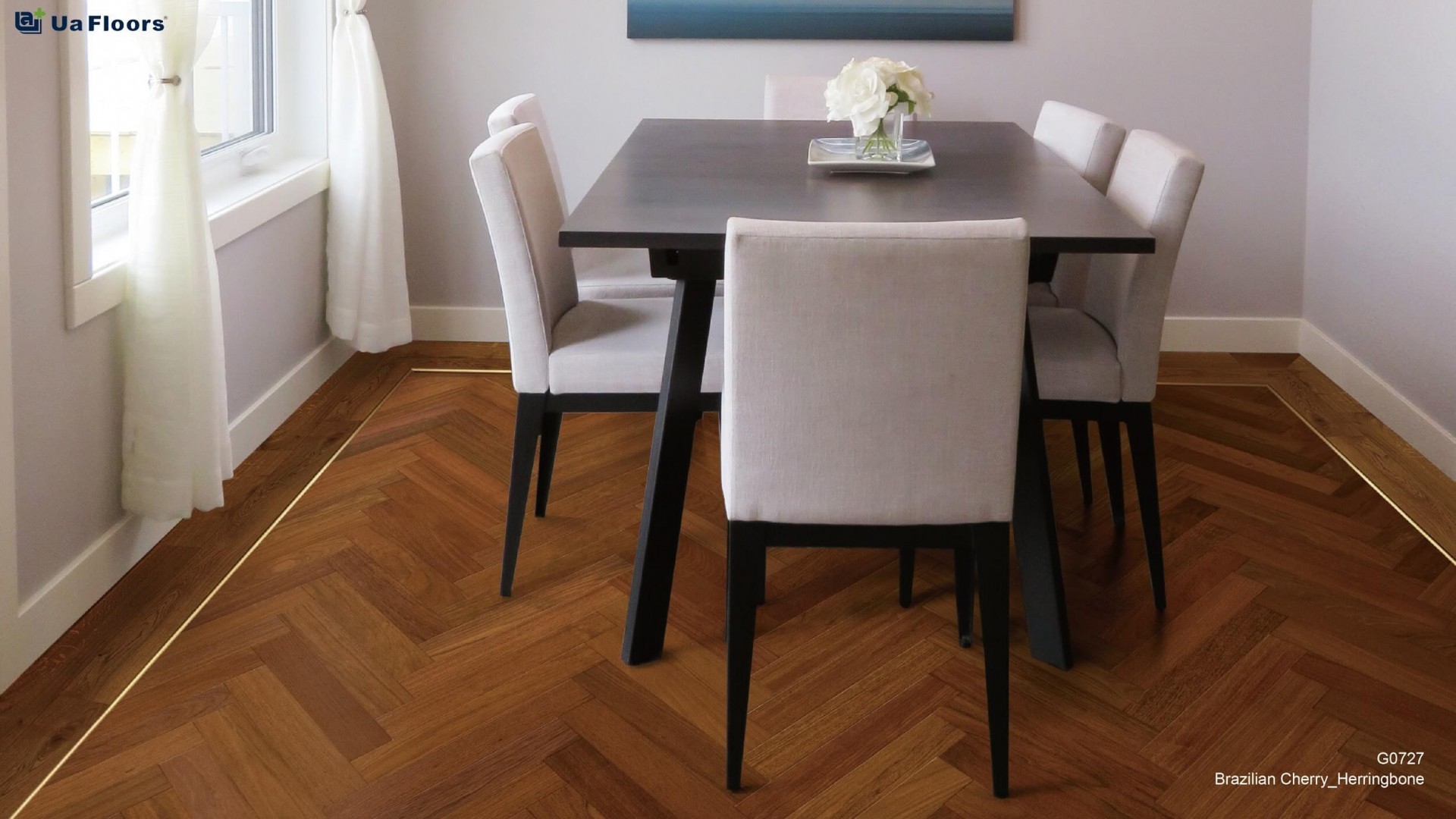 (Modern Interior style)Rustic engineered hardwood flooring in neutral shades of brown contrasts nicely against these Modern-style interiors and will withstand scuffing from dining chairs and high foot traffic. Brazilian Cherry Herringbone parquet from our Grecian Collection adds coziness to a room decorated in cool whites and blue wall accents.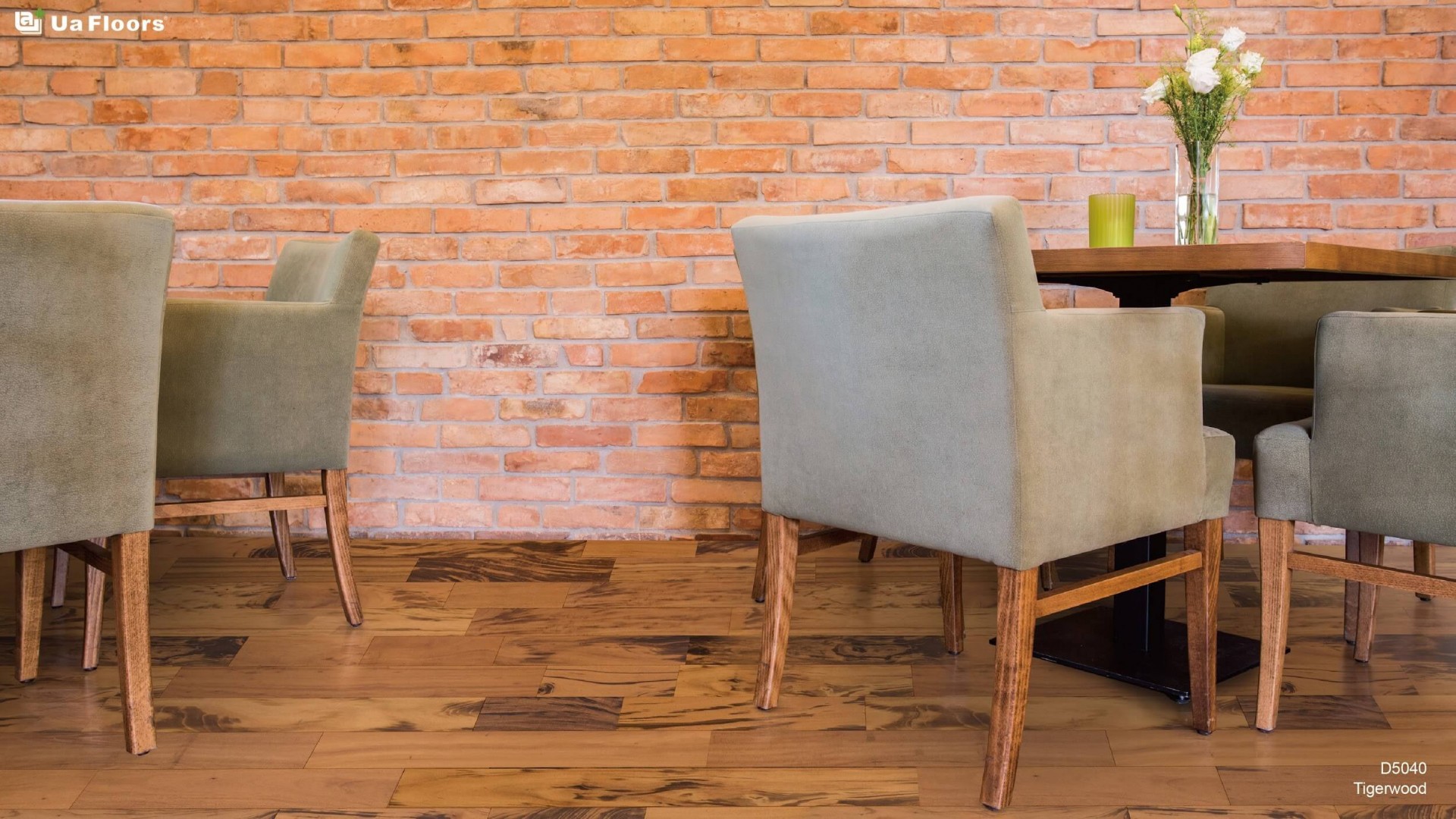 (Country Interior style)Add a touch of warmth to Country-style interiors by installing Tigerwood parquet-style engineered hardwood flooring from our Grecian collection. The tiger-style striping matches the room's dining chairs and offsets the modern, Industrial-style brick wall facade.
Exotic engineered hardwood flooring: The best of both worlds
Exotic engineered hardwood flooring is a cost-effective and practical solution to many solutions encountered with hardwood floor installations. Its mounting on treated multi-layer birch plywood surfaces makes it a lot less vulnerable to shrinking or expanding. Exotic engineered hardwood flooring also makes installation efficient over many subfloor surfaces, including concrete, which isn't the case with full-plank hardwood flooring.

Ethical sourcing and upcycling
If you believe in ethical environmental sourcing of your housing material, then exotic engineered hardwood flooring is for you. Many of the best engineered hardwood flooring manufacturers, like UA Floors, believe in international environmental sourcing certifications that verify the sourcing methods of the wood you are choosing.
UA Floors carries several certifications:
JAS – Japanese Agricultural Standards
Forest Stewardship Council (FSC)
EPA TSCA Title VI
As well as CARB II
(UA Floors provide you with professional services)
These certifications demonstrate that flooring manufacturers like UA Floors adhere to environmentally safe production and manufacturing standards that will not harm users of their products, nor cause adverse environmental effects on the countries where exotic hardwood material is sourced.
For more information about our exotic engineered hardwood flooring products, contact us today.